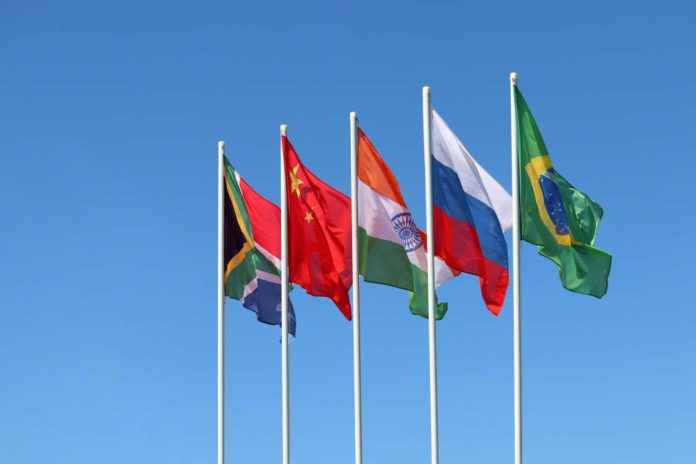 Brazil, Russia, India, China and South Africa, also known as BRICS, are reportedly working on creating a common currency that would not be reliant on either the US dollar, euro or the pound. 
This comes in the wake of economic uncertainty as global inflation continues to remain a worry for many leading nations. The five members of BRICS have appeared to have potentially found a solution in the creation of a currency that would be used as a form of payment for trade.
This would also follow on from Russia's recent de-dollarisation tactic as the world's largest nation announced it will now be trading with the Chinese Yen as opposed to the US dollar.
Following Russian lawmaker Alexander Babakov's announcement of a BRICS common currency, it would also appear that the other four partnering nations are also looking to reduce or drop its reliance on trading with the US dollar, which for decades has been viewed as the strongest currency in the world.
These new foreign policy measures have been underlined in President Vladmir Putin's aims to alleviate the overwhelming amount of Western sanctions imposed on the country since being involved at war with Ukraine.
Whilst the BRICS common currency report is yet to be confirmed by other officials of the member nations, the discussion of the currency will most likely be discussed at the next BRICS summit in August.
Following a meeting with Indian officials, a Russian government statement read: "Russia will continue to build up a particularly privileged strategic partnership with the Republic of India with a view to enhance and expand cooperation in all areas on a mutually beneficial basis and place special emphasis on increasing the volume of bilateral trade, strengthening investment and technological ties, and ensuring their resistance to destructive actions of unfriendly states and their alliances."
Russia has also declared that such foreign policy moves should be set in place to 'restore global order' and continue to share a healthy trade relationship with China and India despite Western sanctions.
China and Brazil are also strengthening their trading relationship with the Yen, further highlighting the dismissive nature some of the BRICS nations hold towards the dollar.
Babakov stated that BRICS countries and cities have now become a part of a "multipolar world".
He continued: "New Delhi, Beijing and Moscow are the nations that now institute a multipolar world that is endorsed by the majority of governments.