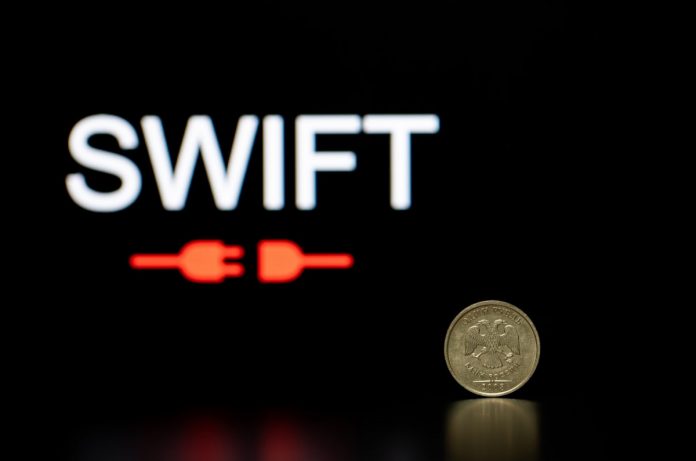 In a statement issued today, the European Union has announced that a total of seven Russian banks will be taken off from SWIFT.
The move further amplifies sanctions on Russia, as the country's invasion of Ukraine reaches day seven.
Russia's second-largest bank VTB, together with national financial entities Novikombank, Promsvyazbank, Sovcombank, Rossiya Bank, VEB, and Otkritie FC, are all cut off from SWIFT as part of the sanctions.
"At the speed of light, the European Union has adopted three waves of heavy sanctions against Russia's financial system, its high-tech industries and its corrupt elite," said President of the EU Commission Ursula von der Leyen.
"This is the largest sanctions package in our Union's history. Today's decision to disconnect key Russian banks from the Swift network will send yet another very clear signal to Putin and the Kremlin."
It comes as the Western World continues to utilise economic sanctions as its most pivotal weapon for halting Russian hostility in Ukraine.
UK Chancellor Rishi Sunak previously underlined the importance of SWIFT as he stated that sanctions involving the global system 'effectively cut them out of the global banking system'.
The move from the EU deepens an impending economic crisis for Russia, as the country's capability to engage with global financial institutions becomes increasingly difficult.
Sanctions are also causing a fallout effect. Speaking with PaymentExpert, FinLync CTO and Co-Founder Peter Klien has warned of severe consequences for the Russian economy. 
Klien commented: "There are also reputational impacts and associated fallout from the removal of select Russian banks from SWIFT, the consequences of which are already being seen with the devaluation of the ruble, long lines at ATM machines and the closure of the Moscow Exchange."