Digital wallets such as PayPal, Skrill and Neteller remain among the most popular payment methods at online casinos and sports betting sites, and a recent report by Paysafe revealed that this enduring popularity has much to do with the frictionless nature of e-wallet payments. However, the growing popularity of Apple Pay deposits at online gambling sites suggests that bettors are looking for payment methods that can provide an even more streamlined path to depositing, writes Robbie Evans, Content Editor at Seven Star Digital.
This raises the question whether Apple Pay – and built-in mobile wallets in general – will be in a position to challenge this supremacy in the near future.
The benefits of using e-wallets to deposit and withdraw at online casinos and sportsbooks are manifest. As Paysafe reported earlier in the year, digital wallets "meet all of the key expectations players have when it comes to the payments experience", including "being able to make instant deposits that are safe, secure and don't require them to share financial information with the sportsbook operator". However, more recent data suggests that, beyond speed and security, users are more interested in how "easy" and frictionless their payments are.
"Surveying more than 2,000 online sports bettors in six US states…the Canadian province of Ontario, and the UK in November 2022, the research found that quick and easy payouts were prioritised by 36% of players when choosing a sportsbook."
Essentially, this report tells us that online bettors simply want to spend as little time as possible in-between games and wagers. Online casino players are there to play, and sports bettors are there to bet and watch the game, and any unnecessary time spent fumbling around with logins, external apps and 2FA procedures – as you have to do when making a PayPal deposit – is time wasted.
While e-wallet payments are among the more seamless of online casino payment methods, they are still significantly less efficient than mobile wallets like Apple Pay. No sign up is required when making an Apple Pay deposit, which, on an iPhone, requires just a double tap of the lock button, the entry of your phone's passcode or a quick face scan. Even on a Macbook you can make an Apple Pay deposit using just Touch ID.
What's more, thanks to the many payment conveniences it affords its users beyond the world of online sports betting, most iPhone users already have Apple Pay set up on their mobile device, which naturally makes them more inclined to use it at betting sites.
In late 2022, the Wall Street Journal reported that nearly 75% of active iPhone users in the US had activated Apple Pay – a 50% increase since 2019, largely due to the necessary increase in contactless payments during the Covid-19 pandemic – which means the vast majority of users will already be familiar with how it works and what its main benefits are, and this familiarity cannot be ignored as a contributing factor in why customers pick certain payment methods.
The Paysafe report revealed that 34% of online bettors consider brand trust to be the most important factor in choosing a new betting site, and it's safe to assume that brand trust is taken into similar consideration when choosing a payment service. Debit card payments with Visa and Mastercard, for example, remain the most popular of all payment methods at online sportsbooks, despite being much slower than e-wallets.
This prolonged success can be attributed not only to the widespread accessibility of debit card payment options, but also to users being so familiar with their associated payment processes. And when you consider that Apple Pay is essentially just a quicker, more frictionless way of using the debit card you already have, then one can only assume that Apple Pay will continue to become a more popular option at sports betting sites and online casinos.
Indeed, Global Apple Pay users grew by 65 million between 2019 and 2020, and we've already seen a corresponding increase in the number of sports bettors who are using Apple Pay to deposit. In the UK, mobile wallets – including the Android equivalent, Google Pay – have already overtaken e-wallets at online sportsbooks, with 28% of respondents saying they would use mobile wallets, and just 22% opting for e-wallets.
We've also seen a gradual increase in the number of users searching for 'Apple Pay casinos' on Google since the beginning of 2020, which suggests that there is a growing demand for Apple Pay betting options. Of course, the built-in mobile wallet is still a long way from challenging the overwhelming popularity of debit card payments – which are preferred by 59% of UK bettors – but it appears to be rapidly developing into the world's second favourite online betting payment option.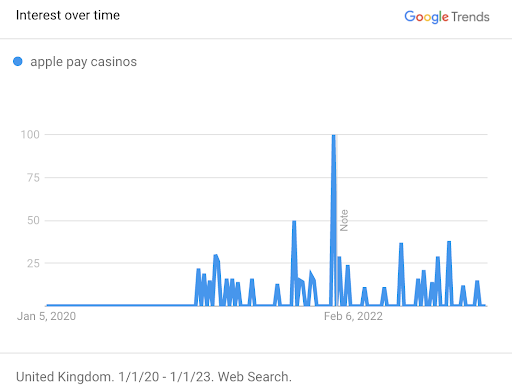 However, having said that, the usage of e-wallets like PayPal in iGaming is also on the rise. Last year, Juniper Research estimated that by 2026, the amount of digital wallet users will exceed 5.2 billion globally, which is an astonishing statistic, especially considering Paysafe's report that 83% of players with a digital wallet use it for deposits and payouts from online sportsbooks. Plus, e-wallets also benefit from being able to facilitate fast withdrawals at online casinos and bookies, which, for 30% of users, is the main reason they choose e-wallets at betting sites.
All of this suggests, then, that both e-wallets and built-in mobile wallets are enjoying – and will continue to enjoy – a period of significant growth. e-wallets offer secure, fast withdrawals and are, according to Juniper, set to dominate the payment sector; while Apple Pay provides users with a truly frictionless payment solution, which, in this age of contactless payments and decreasing attention spans, has emerged as sports bettors' main priority.
Despite recently overtaking e-wallets in the UK, due to its lack of fast payout capabilities it remains to be seen whether Apple Pay will be able to make a more long-term dent in PayPal's market share. What seems certain, however, is that they will both eventually supersede the debit card as the primary payment methods of choice.