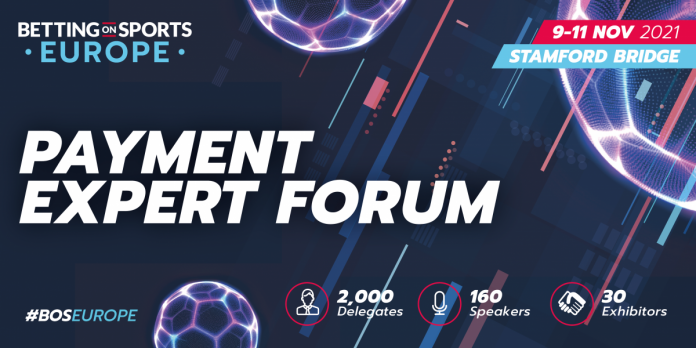 With sports betting mirroring many sectors and becoming increasingly digital, the reliance on fintech and the payment space intensifies significantly.
As live events return, industry experts on regulation, payments and gambling convene at Betting on Sports Europe at Stamford Bridge, London to analyse how betting can best tap into a flourishing fintech sector and improve the payment journey. 
The track is just one of six on the packed agenda due to take place at the home of the European champions between 9-11 November.
It commences with insight on affordability and how operators can retain stringent measures, as we emerge from the pandemic and player profiling evolves into a 'new normal'.
The subject of the panel has grown in importance in recent times, off the back of the pandemic and the subsequent economic implications, as well as with a review of the gambling act looming and increased scrutiny placed on betting operators.
Scott McGregor (COO & Co Founder of BeBettor), Apostolos Dousias (COO at Betsson Group) and Andrea McGeachin (Chief Commercial Officer at Neosurf) will all feature on the panel, taking a look at how operators can transcend digital safeguarding methods to brick and mortar betting as the world opens up once more. 
Discussions then move to another subject thats recent growth into the mainstream has been exponential, as a myriad of experts come together to figure out what's next for blockchain and how the betting industry interacts with digital currency.
Moderated by CoinGeek's Becky Liggero and featuring Emma Diskin, the COO of Socios, a company that has surged in momentum – leading to a plethora of partnerships with some of the most decorated sporting organisations. 
The panel will take a detailed look at the regulatory implications that come with the growth of blockchain and how regulatory frameworks need to adapt to keep up with the evolving technology.
Digitalisation continues at the forefront of discussions, as Sandhya Singh, Head of Operations at Napoleon Sports & Casino, gives a presentation on KYC and why it is a pivotal tool in forming a digital picture of the consumer.
Another challenge for operators has been AML. The next panel, featuring Thees Buschmann (Head of Compliance at Red Rhino), Steven Armstrong (Group Director of AML at William Hill) and William Chambers (Chief Compliance Officer at Smarkets), will provide the operators' perspective on how the threat of fraud and money laundering has transformed. 
The track concludes in fascinating fashion, looking at new tech and innovation, firstly taking a deeper analysis of how the gambling sector can tap into fintech and the role it can play in boosting engagement for sports betting.
It comes as the fintech sector continues to be one of the fastest-growing in the UK, with it potentially having significant consequences for the brick and mortar experience within betting and gaming.
Following this up is another space that has thrived exponentially as we take a more detailed look at the growth of NFTs and where is next for the latest expansion of blockchain technology, which has taken the world of sports engagement to new heights.
Five other tracks will feature at the Betting on Sports Europe conference – Innovation & Operations, Marketing & Affiliation, the Future of Sports Betting, Leadership, and Betting Around Europe.
A programme of evening networking events will be provided to all attendees, concluding with the closing party and Sports Betting Hall of Fame induction ceremony at London's iconic Natural History Museum on 11 November.
Book your Betting on Sports Europe pass today for the limited special offer price of £355 (a saving of £240 on the full price) at the event's official website.