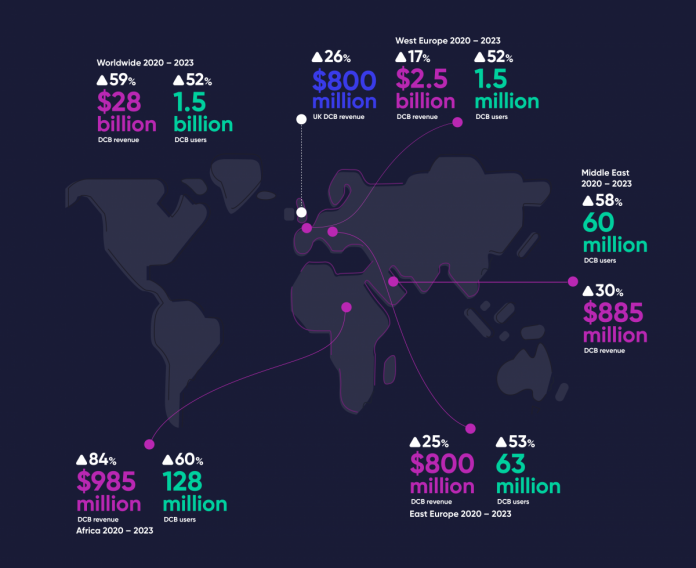 New research published has revealed Direct Carrier Billing (DCB) will grow to $28bn by 2023, with the payment tech reaching 1.5bn users globally, including 39per cent of all smartphone users. 

Carried out by Mobilesquared, independent analysis of the mobile payment method maps out user and revenue growth on a global scale, with the technology projected to reach 1.5 billion users in the same time period.

Commissioned by PM Connect, the findings detail that the most significant consumer sector growth will be in mobile ticketing (mTicketing) and health and fitness, alongside in-demand sport content.

By 2023 this will see 39 per cent of smartphone users regularly access lifestyle and sports content, tickets, videos, news articles and more through DCB payments – with the number increasing from just 19 per cent in 2018, and 26 per cent today.

In the UK the technology projected to reach $310m in revenue by 2023, an increase of 26 per cent from 2020 and $2.5bn in Western Europe, an increase of 17 per cent.

Chris Purdie, Group Commercial Director at PM Connect, commented: "The past five years have seen mobile content become king, with mobile internet usage now accounting for 52 per cent of web-page views around the world.

"While the current climate has presented undoubted challenges across industries, it has underlined the power of the smartphone for communication and payment. Mobile internet use has surged by 50 per cent in some markets, as consumers look to their phones as the best way to stay connected to their favourite brands – coupled with an increase in organisations communicating to their audiences via SMS.

"Slotting neatly into this mobile ecosystem, DCB is a more universal way to pay – bypassing the need for long sign-up processes or inputting bank account details, alongside transparent direct communication. We hope this research demonstrates what an exciting time it is for our industry, proving it is a payment method on the cusp of hitting the mainstream."

He added: "In Africa and the Middle East, there will be more first-time users converted to DCB over the next few years than ever before. This is democratising content for users in emerging markets by making world-leading brands more accessible. For brands, DCB can help increase not only revenue but reach, driving wider interest and connecting with new fans in these markets."

"As we see mobile phone usage and the role of data packages becoming increasingly influential around the world, with the right long-term vision the potential of DCB is exponential."

Expert Analysis: The report provides a fascinating insight into the growth of mobile payments. Specifically, the regional data is a unique insight as it reveals the consumer habits and market growth that is driven by first-time users.