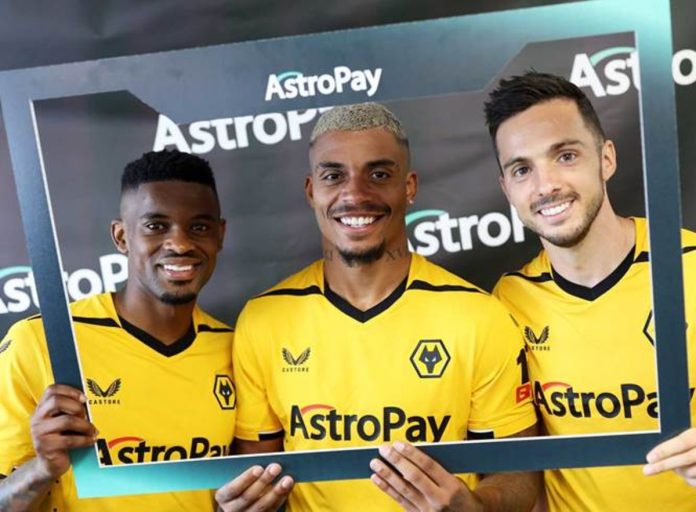 AstroPay has announced the extension of its partnership with Premier League club Wolverhampton Wanderers.
The global fintech has been a principal partner of Wolves since 2021 and has worked closely with the club to provide a range of fan experiences which include rewards and prizes.
As part of the extension, AstroPay will continue to feature on Wolves branding on all new team kits for next season, men's, women's and under-23 teams anda range of replica kits, as well as additional brand exposure across Molineux Stadium.
Carolina Gama, AstroPay VP of Marketing, commented: "Our enduring partnership with this club has solidified us as an integral part of the Wolves family. With an impressive track record of 13 major trophies, this collaboration aligns perfectly with our growth strategy, particularly in expanding our presence in the European market.
"It's also exciting for us to work side by side with Wolves, striving to give their fans the absolute best experience possible along with a payment solution that caters for their daily financial needs. As we look forward to the future, we anticipate a continued successful collaboration, propelling us towards new heights together."
Last March, AstroPay and Wolves co-launched a dedicated debit card, which offers a series of benefits from cashback on purchases in the Wolves official store, to the collection of AstroCoins which can be used after every purchase at the club store, which can be redeemed for further prizes such as hospitality tickets and signed merchandise.
"The extension of our Partnership with AstroPay is a testament to the great work we have done together so far, and we are thrilled to have them as part of the pack once again for the 23/24 season," added Russell Jones, Wolves General Manager for Marketing and Commercial Growth.
"We've forged a strong relationship with the AstroPay team over the last two years and we believe that there is much more still to come from this partnership. We are always looking at ways to give back to our fans, and we will continue to work with AstroPay on providing exciting opportunities, prizes, and experiences to our dedicated and loyal fanbase next season.
"The introduction of new and unique AstroPay products created specifically for Wolves has allowed our fans to benefit from special offers and savings, and we are already discussing some interesting new products and services that AstroPay will look to introduce for next season."
Since forming the Wolves partnership in 2021, AstroPay viewed the deal as a vehicle for brand awareness and exposure being associated with a high-profile Premier League club which attracts viewers from across the world.