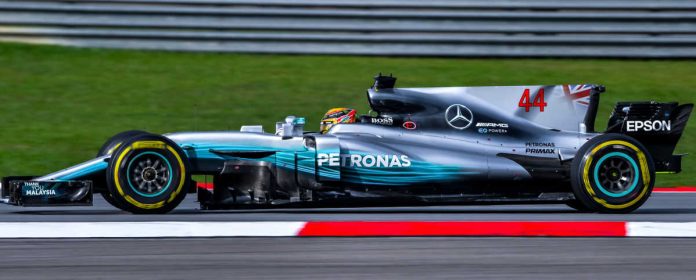 Canadian fintech Nuvei has announced a multi-year sponsorship deal with Formula One team Mercedes-AMG Petronas that will see the payments firm become a part of the team's branded sponsors.
From the 2023 F1 season onwards, the Nuvei logo will appear on the helmet and overalls of Mercedes team drivers Sir Lewis Hamilton and George Russell, as well as pit crew overalls and team clothing.
The partnership also entails that Nuvei will utilise the Mercedes drivers as a part of wider marketing activities for its customers and clients, with more details to be released soon.
Nuvei branding will be unveiled at the Mercedes 2023 F1 car launch later this week.
Nuvei Chair and CEO, Philip Fayer, commented: "Being a people-first, technology-led business ourselves we identify strongly with the ethos of the team, which is just one of the reasons that we are incredibly excited to be joining the Mercedes-AMG PETRONAS Formula One Team family."
"As a leading global payments company with a heritage of delivering the most agile and transformative payments technology in the market, we know what it takes to sustain being at the cutting edge of innovation. So we're proud to be associated with one of the most pioneering teams in the history of motorsport."
The partnership will enable Nuvei to gain added exposure from one of F1's most successful teams, as well as its logo being branded on one of the sports most recognisable faces in Hamilton.
With payments processing services in more than 200 markets, including local acquiring in over 45 countries, Nuvei connects e-commerce businesses with their customers across the globe.
In addition to payment processing and acquiring, Nuvei's full stack solution includes pay-ins and payouts, optimization, orchestration, fraud prevention, risk management and much more through a single, seamless integration.
"We're thrilled to welcome Nuvei as a long-term partner in time for the start of the 2023 Formula One season," said Toto Wolff, Team Principal and CEO of the Mercedes F1 team.
"Nuvei has a reputation as a leader in its field with a global footprint. Its dedication to performance excellence through innovation aligns with our values, so we're looking forward to a successful period working closely together as we share the Nuvei brand with our global audience and find more similarities between our approaches to success."