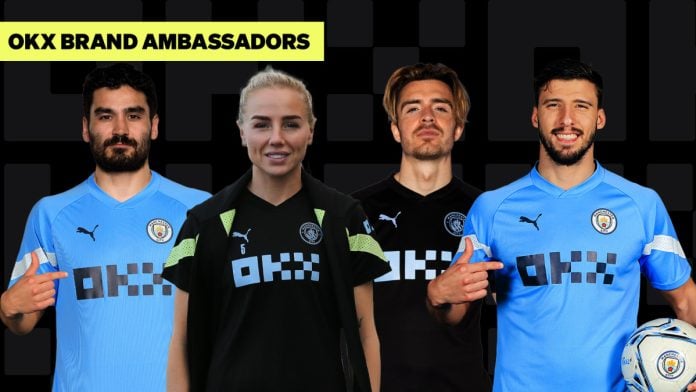 Cryptocurrency exchange, OKX has strengthened its ties with English Premier League champions Manchester City, announcing collaborations with Alex Greenwood, Ilkay Gündoğan, Jack Grealish and Rúben Dias.
Designed specifically for fans, the partnerships will see the launch of the OKX Collective, which the firm describes as 'an immersive metaverse experience'.
Haider Rafique, Chief Marketing Officer at OKX, said: "Introducing elite footballers to our newly established metaverse is about sharing the boundless possibilities of Web3 and inviting fans to experience it first-hand.
"Web3 has the potential to be bigger than everything that came before it, and this is just a taste of the incredible experiences it stands to enable. Let me take this opportunity to welcome Jack, Ruben, Ilkay and Alex to both the OKX family and the incredible world of Web3."
Key to the experience will be rewards and content from a host of City players, as fans look to embrace the metaverse environment as a new horizon for fan engagement.
Grealish stated on the partnership: "Manchester City and OKX are both winners. Combining football and the metaverse brings fans closer to the action. I've had a lot of fun bringing my digital profile to life with the support of the Club and OKX." 
Greenwood added: "I'm excited to be teaming up with OKX and heading into the metaverse for the first time. We talk a lot about the evolution of football, and it feels as though exploring this space is the next step. There's some exciting things to come with this partnership… especially if you like your trainers and digital collectibles."
German midfielder Gündoğan also outlined that: 'Football is all about community, and City fans are the best in the world', something he believes will lead to the OKX Collective becoming an incredible place. He also stated that he has been an avid follower of Web3 for some time and is excited to learn more about the space.
Dias concluded on the collaboration: "I am delighted to team up with OKX. By giving my fans a glimpse into how I prepare for matchday I hope to showcase the power of the metaverse and continue learning in this fast-moving space. Can't wait to see what's next."