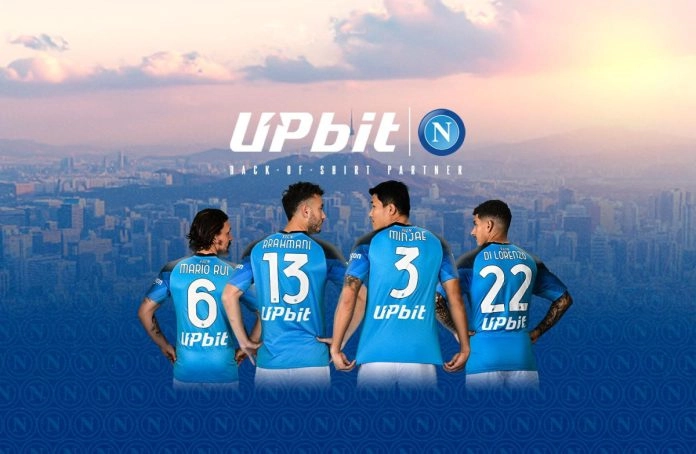 Italian football team SSC Napoli confirmed a new partnership with Dunamu, the South Korean fintech company and operator of one of the world's largest cryptocurrency exchanges Upbit. 
The link strengthens the ties between football and crypto, with the firm becoming the club's official back-of-shirt partner and global crypto-exchange partner until the end of the 2023/24 season in all Serie A, Coppa Italia and friendly matches.
Tommaso Bianchini, Chief International Development Officer of SSC Napoli, said the team was 'thrilled' to be partnering with Dunamu.
Bianchini stated: "This partnership enshrines the union of two game-changers in their respective sectors, underlining the objective of a future vision where innovation and technology are at the heart of the project. This agreement once again confirms that the club has an eye on international markets and on the most advanced technologies, in a process of continuous improvement of our brand globally.
"We'd like to warmly welcome Upbit to our family and we look forward to working together and enlarging our presence in South Korea."
Sirgoo Lee, CEO of Dunamu proclaimed that the fintech is 'excited' to be partnering with 'one of the biggest and most prestigious football clubs in the world'.
"We're thankful for the warmest welcome and are thrilled to be a part of the journey together with SSC Napoli, including star defender Kim Minjae," added Lee. "We look forward to finding more meaningful collaborations throughout the season."
Global Commercial Director at Entourage Sport & Entertainment, Domenico Novella, concluded on the deal: "By recognising opportunities for both Napoli and UpBit in terms of strategic growth and exposure to new markets we were able to advise and support the negotiations for the two brands.
"We are delighted to see that the positive initial reaction from some of the leading experts in the market regarding this partnership has validated our strategy in bringing them together. We look forward to supporting both parties to ensure this partnership is one of the most successful in the sector over the coming years."