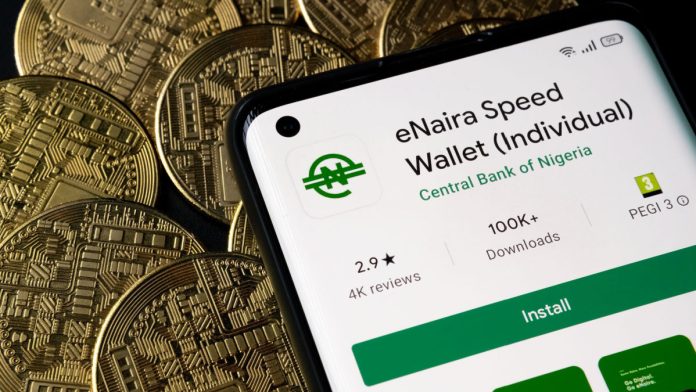 Chat commerce platform Clickatell has been chosen by the Central Bank of Nigeria (CBN) to develop a widely accessible USSD channel for CBDC entry.
The channel is essentially a communications protocol for GSM-enabled mobile devices that is used to circumvent the need for active data and access to a SIM card when communicating with certain servers.
By introducing this Clickatell-made protocol, the CBN aims to make its own central bank digital currency (CBDC) eNaira available to all Nigerians, significantly boosting banking accessibility and driving the country's financial inclusivity forward.
The eNaira was first introduced back in October of 2021, making it Africa's first central bank-backed digital currency. Nigeria's President Muhammadu Buhari then said that this will bring improvements in remittances, cross-border trade and welfare payments, forecasting the country's GDP reaching $29 billion over the next 10 years as a result.
Dr Kingsley Obiora, CBN Deputy Governor of Economic Policy, commented: "The USSD channel is a vital part of our journey towards realising our financial inclusion vision. We see the eNaira as a leap forward in the evolution of money. Thus, CBN is working with partners who are committed to taking advantage of this new technology for continuous innovation towards delivering exciting new features."
Smartphone ownership has seen a dramatic rise over the last decade, but a significant percentage of Nigeria's population is still using the older generation of feature phones. Subsequently, the CBN believes that the introduction of a USSD channel is the perfect solution to getting the 30% of unbanked Nigerians into the country's banking system.
"Introducing the USSD short code allows non-banked Nigerians, many of whom do not have smartphones, to access cashless banking services and is a big win for the stated goals of delivering meaningful financial inclusion," Uzo Nwani, Clickatell Commercial Director for West Africa said.
"Digital currencies provide measurable customer benefits including lower costs and a simple user experience and adding new innovative features over time will definitely attract more customers.
"There is no doubt that the CBN has set the benchmark when it comes to financial inclusion in Africa, and we look forward to being part of that journey."
The USSD channel allows for an eNaira wallet to be opened by simply dialling *997#, with additional user-controlled security measures at-hand such as pin resets and the option to block the wallet completely.