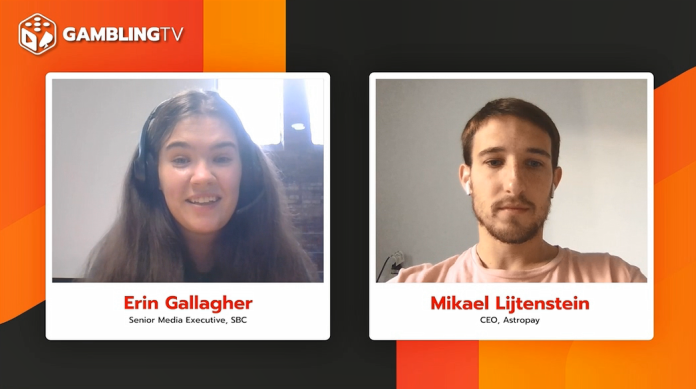 AstroPay has spent much of the last 12 months expanding to new users globally – and with that has come a whole host of new products which CEO Mikael Lijtenstein believes are delivering "the best possible solutions available" for its partners.
Speaking to SBC, Lijtenstein delved into all things innovation as he spotlighted AstroPay's global expansion plans, OneTouch and the recent launch of the AstroPay Visa debit card.
He began: "It was busy and challenging. This year, we increased the number of users we have all over the world. As you know, we are a digital wallet and we offer the service on a global scale. Over the last few months, we have increased the number of countries that we are processing payments in. We strengthened our position across Europe, having entered markets such as the UK, Spain and Portugal.
"Also, we partnered with new payment methods – this has been one of our strongest points. It's important to always give new opportunities and offer different methods for our users to load up their digital wallet. On top of that, we also secured a number of new agreements with merchants so we can, again, offer our users more options.
"We had a great launch of our Visa debit card. It is a great project – we have a dedicated team who are iterating and improving the offering each day, and also improving the crypto feature where users can buy and sell cryptocurrencies easily.
"As you already know, we have partnered with Premier League side Wolves FC. This is a great partnership that we started a few weeks back. So partnering with a Premier League team is very important for us – it enables AstroPay to be seen all over the world."
Conversation soon turned towards the importance of localisation, and the ways in which AstroPay is supporting merchants to offer localised payment methods when expanding into new markets.
Lijtenstein added: "Consumers are used to paying with local payment methods, using their own currency. In Brazil, it's the real, shillings in Kenya and rupees in India. So it's incredibly important to offer our users a payment method that they are used to.
"So we have been partnering with the most well known local payment methods in those countries where we operate. That way, merchants don't have to try to close separate agreements in every individual country.
"We give them a chance to pay using a payment method where the user already knows what we do, they already have their wallet, and it's a very well known payment method all over the world. We have dedicated teams in each country that, every day, improve the solution and receive feedback from users to bring them the best solution that we can."
To watch the full video, click here.
This story is the latest in our Payment Innovation series, which looks ahead to the SBC Summit Barcelona 2022, taking place at Fira Barcelona Montjuïc on 20-22 September. 
The event will see 6,000 delegates enjoy a 12-track conference covering all aspects of the international sports betting, payments and online casino industries, an exhibition with 200 companies showcasing their latest innovations, and a programme of spectacular evening networking events.
Visit the SBC Summit Barcelona website to book your All Access Pass.