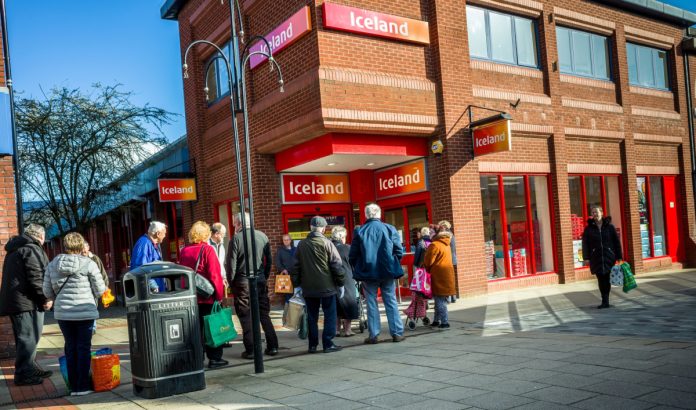 Iceland supermarket has launched a new interest-free BNPL offering to help customers manage their finances during the current cost-of-living crisis.
In partnership with charity organisation Fair For You, the microloans will see customers paying a maximum of £100 on their pre-loaded cards which they will pay back £10 per week, all whilst being given the chance to select what day they make the repayment.
Simon Dukes, CEO of Fair For You, has commented on the partnership with Iceland on their BNPL rollout: "We're very proud that, by working with Iceland, we can help families put food on plates without having to resort to food banks – an option which is not always available to all who might need it.
"We're proud of the impact we're having. We're also very grateful to Iceland and those investors who have made the scheme a success so far, and hope to continue its rollout."
However, this hasn't come without criticism. Many have labelled the supermarkets BNPL move as encouraging shoppers to spend beyond their means with Labour MP, Stella Creasy, branding Iceland's offering as 'deeply disingenuous'.
Despite the interest-free repayment scheme, Iceland has come under fire from critics who believe the supermarket is manipulating people to spend more to spread payments under an economic situation that continues to worsen.
It comes as the cost of living crisis increases fear for consumers, with grocery price inflation has risen by 11.6%, according to Kantar, the highest since 2008 during that year's global recession.
Like most BNPL services, such as Klarna, Iceland's offering will be an instalment-based payment method with but unlike Klarna, there will be no interest rates involved. This means shoppers can spend between £25-£75 when applying for a Food Club Card, but further credit can be taken out.
During a Sky News interview, Iceland Managing Director Richard Walker defended the BNPL campaign, believing that microloans are 'very limited' in the current market.
He said: "It's something we have been trialling for the last 18 months. These are affordable microloans that are very time-limited and small amounts. You repay a set amount of £10 a week and there's no interest; we will pay the interest on the borrower's behalf.
"We've partnered with Fair For You, an ethical lending provider, and they are assessing people who are struggling to make ends meet."
MP Creasy retorted Walker's comments via Twitter.
deeply disingenuous @IcelandFoods – offering your customers a BNPL option to pay for food isn't 'helping' during cost of living crisis. It's exploiting evidence makes consumers spend more to spread payments and lack of consumer protection to manage debt they rack up! #sharks https://t.co/iRgk6tMH4B

— stellacreasy (@stellacreasy) August 16, 2022
The Financial Conduct Authority (FCA) recently warned BNPL providers specifically, if they are promoting a misleading financial service, then the UK watchdog will act.
"As we face a cost-of-living crisis, consumers are having to make difficult decisions about their finances and how they pay for goods and services," said Sheldon Mills, Executive Director of Consumers and Competition at the FCA.