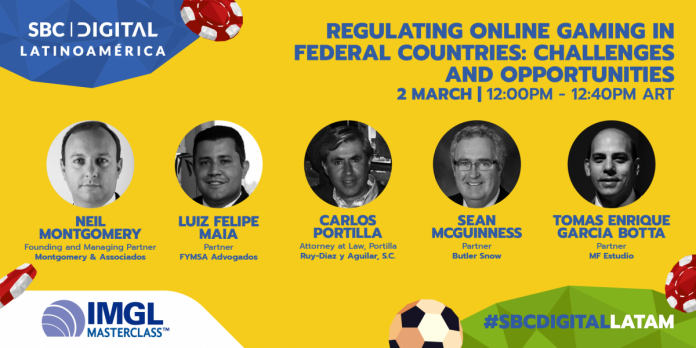 Next week's SBC Digital Latinoamérica conference and exhibition is to host an International Masters of Gaming Law (IMGL) Masterclass, which will see some of the industry's leading legal experts address the challenges arising from the regulation of online gaming in federal countries such Argentina, Brazil, and the US.
The 'Regulating Online Gaming in Federal Countries: Challenges and Opportunities' session will take place at 12pm ART / 3pm GMT on 2 March, and will examine the main issues that may be expected to arise from regulation in federal countries and how they can be avoided.
It will feature input from IMGL members Sean McGuinness (Partner, Butler Snow), Luiz Felipe Maia (Partner, FYMSA Advogados), Carlos Portilla (Attorney at Law, Portilla, Ruy-Diaz y Aguilar, S.C.), Neil Montgomery (Founding & Managing Partner, Montgomery & Associados), and Tomas Enrique Garcia Botta (Partner, MF Estudio). 
IMGL, a not-for-profit association comprising more than 340 members recognised as the leading experts in their jurisdictions, stages its IMGL Masterclasses at international gaming events as part of its programme of continuing education for the gambling sector.
The session marks the first time IMGL has worked in partnership with SBC, but further collaborations are planned for SBC's 2021 calendar of digital industry events.
Marc Ellinger, President of the IMGL, said: "As the pre-eminent international organisation of gaming lawyers, the IMGL is excited to embark on this new partnership with SBC.
"SBC has consistently brought a standard of excellence in its programming and we look forward to joining together to expand that programming in 2021."
Rasmus Sojmark, Founder and CEO of SBC, said: "The IMGL Masterclass is a fantastic addition to SBC Digital Latinoamérica. It will provide our delegates with key regulatory and legal information about growing markets in the region, together with access to insights from some of the foremost gambling industry lawyers in the Americas.
"We're delighted to be working with IMGL for this event and look forward to developing a strong partnership with them throughout 2021."
SBC Digital Latinoamérica on 2 – 3 March will see more than 2,000 delegates from the Latin American and wider international gaming industry gather to share information and ideas, connect and talk business.
The online event includes a four-track conference that will provide valuable insights on regulatory developments across the region, product innovation tailored to local players, the emerging opportunities in the Brazilian market, and the Latin American sports betting industry.
It also features an interactive product display area showcasing the latest offerings from sportsbook, casino and payments suppliers, along with a programme of networking roundtables to help facilitate connection between delegates.
For further information about the event and to register for free, please visit the SBC Digital Latinoamérica website.