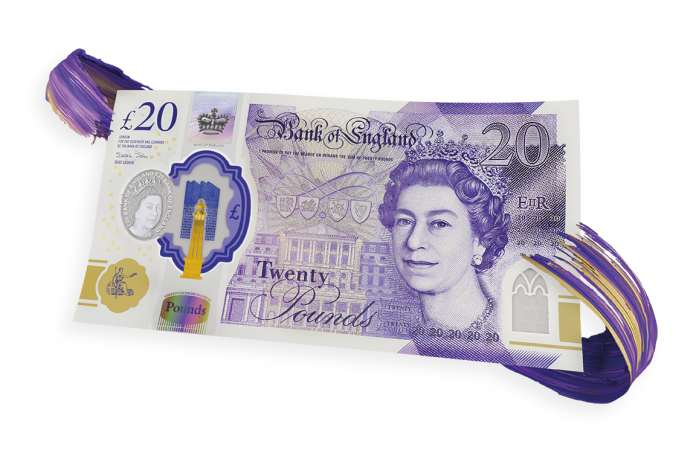 Bank of England Governor Mark Carney has today revealed the design of the new £20 note, which is due to be released into general circulation on 20 February 2020. 

The polymer note, featuring English Romantic painter JMW Turner, will be the first to feature two windows and a two-colour foil, which is hoped will make it much more difficult to counterfeit.

Commenting on the new note, Carney said: "Our banknotes celebrate the UK's heritage, salute its culture, and testify to the achievements of its most notable individuals. And so it is with the new £20 banknote, featuring JMW Turner, launched today at Turner Contemporary in Margate.

"Turner's contribution to art extends well beyond his favourite stretch of shoreline. Turner's painting was transformative, his influence spanned lifetimes, and his legacy endures today. The new £20 note celebrates Turner, his art and his legacy in all their radiant, colourful, evocative glory."

The polymer £20 will join the Winston Churchill £5 and the Jane Austen £10. A new £50 note, featuring Alan Turing, is due to follow in 2021. 

The new £20 note will be the first to feature the signature of Sarah John, the Bank's Chief Cashier. She added: "The new £20 is an important part of our commitment to providing banknotes that people can use with confidence.  

"Our polymer notes are much harder to counterfeit and, with the £20 being our most common note, this marks a big step forward in our fight against counterfeiting. I hope the public will look forward to spending their new Turner £20s from February next year."

The large see-through window on the note will feature a blue and gold foil on the front depicting Margate lighthouse and Turner Contemporary, while the shape of the large window is based on the shape of the fountains in Trafalgar Square. The secondary, smaller window has been inspired by Tintern Abbey.

JMW Turner's self-portrait, painted c. 1799, is also due to feature on the note alongside other depictions of Turner's collection, including The Fighting Temeraire; a tribute to the ship HMS Temeraire which played a distinguished role in Nelson's victory at the Battle of Trafalgar in 1805.

Similar to other polymer notes, there will be a metallic hologram which changes between the word 'Twenty' and 'Pounds' when the note is tilted, alongside the Queen's portrait in the see-through window with '£20 Bank of England' printed twice around the edge.