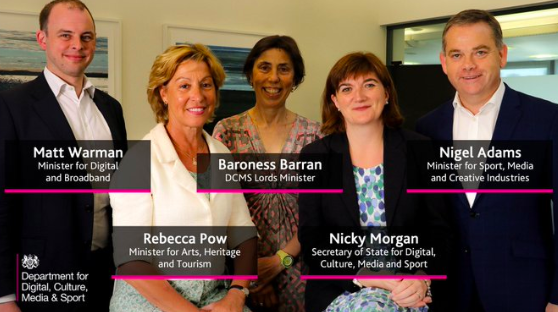 A frantic week of political appointments, promotions and dismissals has seen the Department of Digital Culture Media & Sports (DCMS) fully reformed, as Boris Johnson begins his PM tenure.
Political observers were left surprised as PM Johnson's office sanctioned a full overhaul of DCMS leadership, a department which holds little sway on current Brexit negotiations which appear to be dominating the UK's political agenda.
Nevertheless, undertaking the biggest 'cabinet reshuffle' British politics has ever witnessed, PM Johnson has sanctioned sweeping DCMS changes, revising not only the department's leadership but furthermore the duties of appointed secretaries.
Gambling and Payment stakeholders will be aware of DCMS secretarial changes, as the department oversees the regulatory development, implementation and oversight of gambling laws formed by the UK Gambling Commission (UKGC)
A 'cabinet comeback' sees Loughborough MP Nicky Morgan appointed Secretary of State for DCMS.  Morgan becomes the departments' fourth leader in three years replacing Jeremy Wright, who will hold no position on the Johnson cabinet.
Further to Morgan's appointment, Johnson would promote 'staunch supporter' Nigel Adams (MP for Selby & Ainsty) to the position of Minister for Sports & Digital, replacing incumbent Mims Davies.
Davies was appointed as UK Sports & Civic Society Minister last November, replacing Tracey Crouch who resigned from the position following the government's delay on implementing FOBTs £2 reductions.
Betting incumbents expected no further DCMS changes, however, starting the week government surprised the sector by transferring the responsibilities of monitoring UK gambling oversight to DCMS' heritage and tourism under-secretary.
The decision sees UK betting's relationship with the government maintained by new DCMS Secretary of state of arts, heritage and tourism Rebecca Pow (MP for Taunton Deane).
Updating stakeholders, DCMS confirmed that Pow's secretarial responsibilities would oversee UK gambling, lotteries as well as horseracing, sectors traditionally monitored by the UK sports minister.
Taking on hew new demands, Pow stated: "I am absolutely delighted that the Prime Minister has re-appointed me as Parliamentary Under-Secretary of State for arts, heritage and tourism.
"All of these areas are important in the Brexit landscape and I am greatly looking forward to continuing in this role, though, as ever, representing the people of Taunton Deane will remain my top priority."