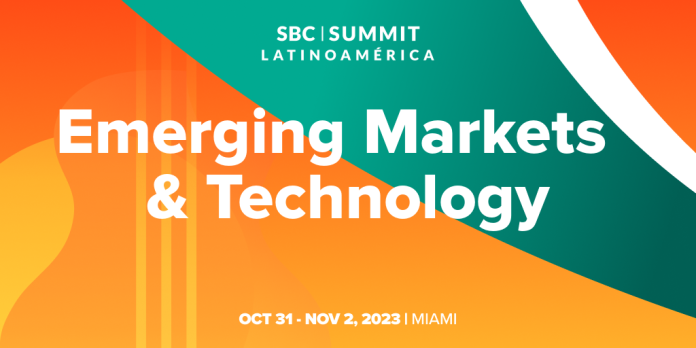 SBC Summit Latinoamérica will present 3,000 delegates with the unique chance to engage in discussions around thriving markets in the region and explore the latest cutting-edge technology during the specialized "Emerging Markets & Technology' track. 
The track will occur on Thursday, November 2nd, the second core day of Latin America's premier iGaming and sports betting event, hosted at the Seminole Hard Rock Hotel & Casino, Miami.
The dedicated track will serve as the ideal platform for attendees seeking to bolster their business operations, delving into opportunities presented by growing markets and leveraging the latest technological advancements. Attendees can expect insightful conversations on effective cybersecurity practices, the existing landscape of unregulated markets in Latin America and the pivotal role of technology in protecting brand identity.
Delegates wishing to expand their knowledge of specific markets will have the opportunity to participate in several expert-led roundtable sessions. Regions explored during these sessions include Brazil (Andre Gelfi, Presidente, IBJR), Chile (Carlos Baeza Guíñez, Founder, Carlos Baeza & CIA Abogados), Mexico (Leticia Palacios, Director of Sales, Kiron Interactive), the Caribbean & Central America (Esmeralda Britton, President, Junta de Proteccion Social), Colombia (Cristian Barbosa, Director of Strategic Partnerships & Gambling, Futbol Sites), Argentina (Tomas Enrique Garcia Botta, Socio, MF Estudio Abogados) and Peru (Tatiana Paredes, Country Manager Peru, Multiple Group).
Rasmus Sojmark, CEO & founder of SBC, said: "This track offers delegates an extensive deep dive into key Latin American markets through a series of regional roundtables and expert-led panels, in both regulated and unregulated markets. Additionally, the track will provide delegates invaluable insights into how technology can be leveraged to enhance cybersecurity and fraud prevention, optimize customer acquisition, and streamline media investment. This panel will prove invaluable to any delegate looking for seamless and successful integration into the region."
Opening the track is the panel titled "Eyes on the Andes: Gaming Regulation in Perú and Chile" which will provide insights into the impending regulation of online betting in Peru and Chile. Expert speakers Carlos Baeza Guíñez (Founder, Carlos Baeza & CIA Abogados), Cristina Romero (Partner, Loyra), Carlos Alberto Fonseca Sarmiento (Partner, Fonseca Abogados) and panel moderator Tatiana Paredes (Country Manager Peru, Multiple Group) will analyze both markets by exploring Chile's advertising and sports partnerships rules, the highly debated taxation structure established in Peru, and examine the most effective pathways to success for operators looking to establish themselves in these markets
The panel titled 'Cybersecurity in Land-Based and Online Casinos' will see guest speakers Gabriel Szlaifsztein (General Manager LATAM, Continent8), Brent Hutfless (Executive Director IT Security, Wind Creek Hospitality) and E. Sequoyah Simermeyer (Chairman, National Indian Gaming Commission) explore the technologies available for online and land-based casinos to improve cybersecurity, protecting against data breaches, money laundering and fraud. Discussions will further encompass the optimal technology in successfully safeguarding revenue, customer data and brand reputation.
The presentation, 'LaLiga's Global Sports Integrity Programme' will feature an in-depth examination of LaLiga's new Global Integrity programme. Expert speaker Iñaki Arbea Sarasa, (Deputy Director of Integrity, LaLiga) will offer an analysis of the four main phases of the programme: prevention, monitoring & alerts, investigation & prosecution and national and international expansion.
The panel 'Predicting the Regulatory Future: Where Next in Latin America?' will offer a retrospective look at the discussions held throughout the conference whilst looking into the future of the region. Esteemed speakers Angel Rodriguez (Sales Manager, FBMDS), Ida Lopez (President, Institute of Lottery Mendoza), Florencia Brancato (Global Head of Markets, Pinnacle), Cristina Romero (Partner, Loyra) and moderator Iliana Pineda (Chief Compliance Officer, WPlay) will engage in conversations regarding the future impact of technology in gaining customers, the current status of gray markets in the region and their potential for future regulation, and legislator perspectives on emerging revenue streams and effective risk management strategies.
__________________________________________________________________________________________

You can keep up-to-date with the latest news, speakers & exhibitor additions and conference content by subscribing to the bi-weekly Linkedin SBC Summit Latinoamérica newsletter.
You can purchase your ticket for SBC Summit Latinoamérica by visiting the website. For groups of three or more people, a special discount will be applied, saving you $150 on the regular ticket price (per ticket).