Whilst regulators in the US are attempting to tighten its grip on crypto exchanges operating in the country, cryptocurrencies and other digital assets' values have been hard to ignore over the past several years.
However, due to two high-profile collapses last year in TerraLuna and FTX's crash, the market went into freefall and is currently still recovering, hence the intensified approach from regulators when it pertains to investor security and safety.
But like all great high performing sectors, it can't last forever and a next growth strategy or phase is needed to enhance crypto's standing across the mainstream, details which were discussed in a recent Fintech Week London keynote by ConsenSys Head Economist, Lex Sokolin. 
"We've had a glimpse of what the machine financial services industry looks like and what that could be. We've seen $200bn flow into the DeFi sector over the last few years, as well as $100-150bn in cash equivalents, e.g. stablecoins or tokenized deposit funds, flow into the space," stated Sokolin.
"Although we've seen the space dissolve in part due to the financial liquidation of the asset class performing poorly, we've also seen how the machine works and it is extremely functional. Things that are actually on chain and in these machines are cleared pretty much within 12 months."
Whilst the crypto market itself may have taken a hit, that does not mean there is no innovation being curated in the sector.
The Ethereum merge last year enabled its blockchain network to use 99.99% less energy than its previous proof-of-work system. Companies such as OKX are also creating their own immersive metaverse alongside Premier League club Manchester City to enhance the fan experience. 
Much of crypto's woes over the last year can be attributed to the actions of individuals and entities breaking the law. However, it can also be partially down to the overall decline of the global economy, which Sokolin believes is holding back the crypto sector in many ways.
He said: "Finance is just the derivative of a healthy economy, which means it should follow the operating economy, not lead it. You can't finance up commerce and this is one of the most challenging things about crypto today.
"We have a financial infrastructure that is very useful, but we also have a lot of barriers that are preventing us from using that infrastructure to access real-world assets, e.g a car. There is regulation, technology and adoption issues that are making that difficult."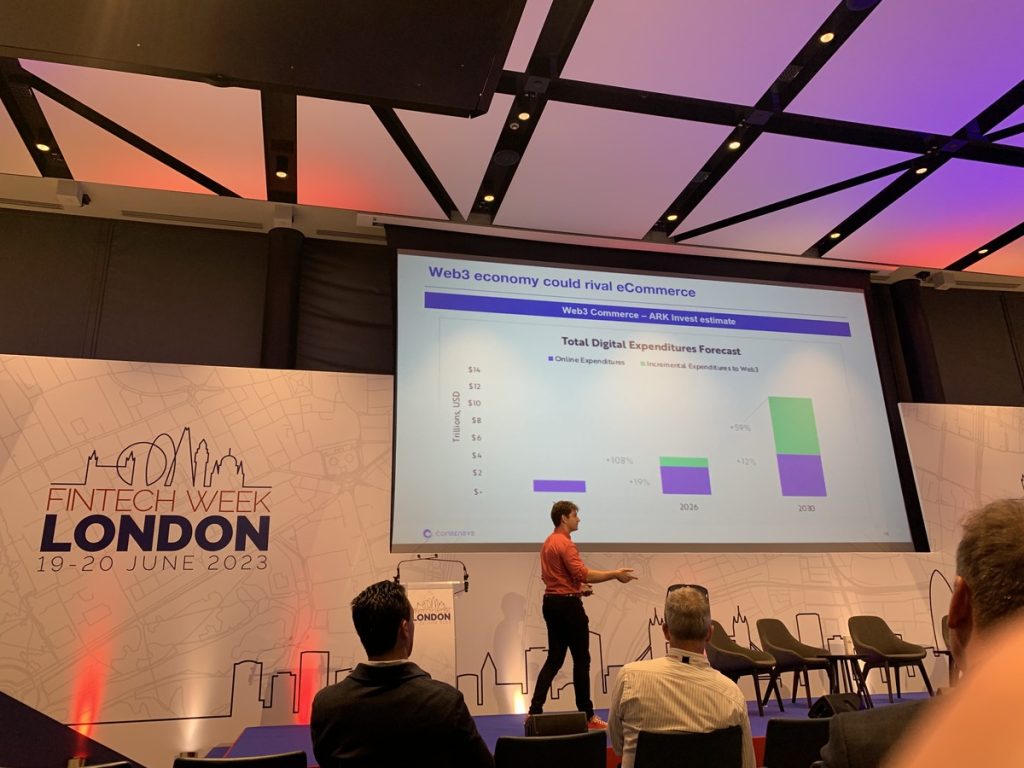 Sokolin also attempted to gaze into the future with several charts, depicting the overall usage of crypto and digital assets from large firms and believes it is "starting to look not like a trading system, but a differentiated platform for economic activity".
Artificial Intelligence (AI) is also playing a seismic role in how the crypto sector is looking to grow over the next several years. Exchanges such as Bybit have already integrated OpenAI chatbot ChatGPT to provide smarter analysis of market data. 
Sokolin believes that AI and machine learning will help create "infinite content" and will become the norm when it pertains to curating digital content for the foreseeable future.
"What I want to say about AI is that it is machine labour that will create infinite content, it's already here, our capacity to be productive is at the edge amongst amazing adoption rates," added Sokolin.
"You have an incredible proliferation of open source models, such as ChatGPT, and will manufacture digital goods at a rate you cannot imagine yet. This is similar to how we took maybe 30-50 photos a year in the 90's, and now we take 30,000 photos a year, in the same way, visual objects are going to grow exponentially and already has."
It almost feels like the next growth period for the crypto sector is on its way, with innovation already happening in the space and the integration of new technologies at the forefront, it may be sooner rather than later.