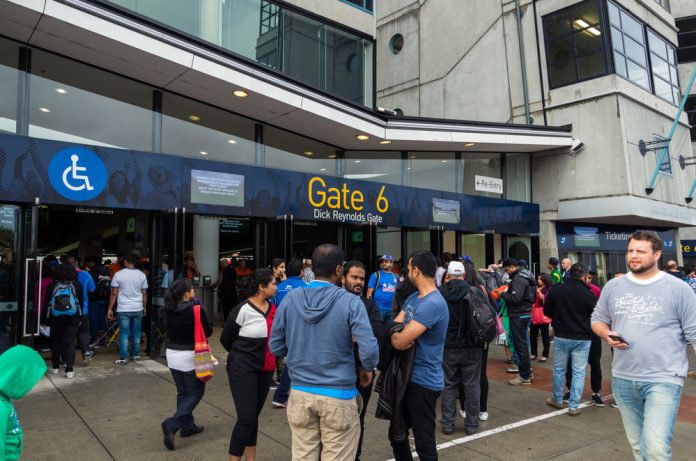 NFT tickets issuer YellowHeart is looking to build on the evolution of the digital market by integrating blockchain technology with real-life event organising.
With Bitcoin being the latest digital asset that the company has moved into accepting, YellowHeart Founder and CEO Josh Katz told Payment Expert more about the direction his company is heading into.
Payment Expert: Why is YellowHeart finally making the move to accept bitcoin as a payment?
Josh Katz: YellowHeart's mission has always been to drive the mass adoption of Web3 tickets. Whether you live in the United States or overseas, whether you make a six-figure salary or minimum wage, whether you want to pay with a credit card, ether, or bitcoin, our tickets are accessible. While the majority of payments in YellowHeart's wallet are made with a credit card, there's a massive community that has bitcoin, and prefers to use it as a currency. Today we're able to guarantee that all of our users can access tickets using their preferred payment method.
PE: How is this new integration helping the company drive mass adoption of Web3 tickets?
JK: The fact that there hasn't been a single ticketing company that accepts bitcoin payments until today has been a massive barrier to entry, specifically for consumers that prefer to use it as a currency. At YellowHeart, we want the purchase process to be as seamless as possible. Since we've integrated bitcoin payments into our wallet, we've taken another step to make the experience of accessing tickets even easier for fans.
PE: Why do you think other global ticketing companies haven't accepted bitcoin as a payment yet?
JK: Traditional ticketing companies have been sceptical of Web3 technology since it first started to gain traction before the pandemic. When fans learned about all of the benefits that can be packaged into Web3 tickets and started to fight alongside emerging players, traditional ticketing companies were forced to make changes. Several global brands now offer "commemorative NFTs" with tickets, which is a step in the right direction, but isn't even close to where the industry needs to get before we see real change. It's no surprise to me that traditional ticketers don't accept bitcoin payments, since the Web3 community has already fought them tooth-and-nail for the small progress we've seen as of late.
PE: Can you walk us through some of the issues with traditional ticketing that Web3 tickets help solve?
JK: Traditional tickets have been around for decades, but they've never actually benefited fans, artists or teams, they've just been the only option. Astronomically high resale prices, fraudulent tickets and scalpers are a few of the biggest problems with traditional tickets today. With Web3 tickets, the ticket issuer – whether it be an artist, team or venue – dictates if a ticket can be resold, and if it is, at what percentage. This helps ensure that fans won't have to pay insanely high prices or miss out on an event. It also gives the ticket issuer a cut of secondary sales, which is a massive untapped revenue stream because of scalpers. YellowHeart uses a rotating barcode, so consumers can't screenshot our tickets and resell the same ticket to multiple fans.
Outside of these more functional benefits, Web3 tickets can be packaged with multiple perks that are proprietary to the NFT technology and can't be programmed into traditional tickets. These include everything from audio and video content, to exclusive merchandise, to meet-and-greet opportunities, to physical redeemables, such as custom vinyl records. Web3 tickets also help artists and teams communicate more intimately with fans since they're able to airdrop perks and messages before, during and after events. When traditional tickets are redeemed, they die at the venue door, but when Web3 tickets are redeemed, they come to life.
PE: Do you also accept credit card payments?
JK: Yes, we do. In fact, over 99% of payments in YellowHeart's wallet are made using a credit card. For concerts and sports events, the majority of tickets are purchased using a credit card, but for events that are tailored to the Web3 community, such as NFT.London, we've seen a rise in alternative payment methods such as ether and bitcoin.
PE: Do you predict you'll ever receive more bitcoin payments than those with a credit card?
JK: Since credit cards are the top payment method globally, I don't see bitcoin payments surpassing them any time soon, but you never know. A few years ago, no one saw Web3 tickets and music gaining traction, but look where we are now. What I will say is that even though the majority of payments in our wallet are made using a credit card, we'll never stop offering fans alternative payment methods. This ensures that our users have options and the purchase process will always be as seamless as possible.