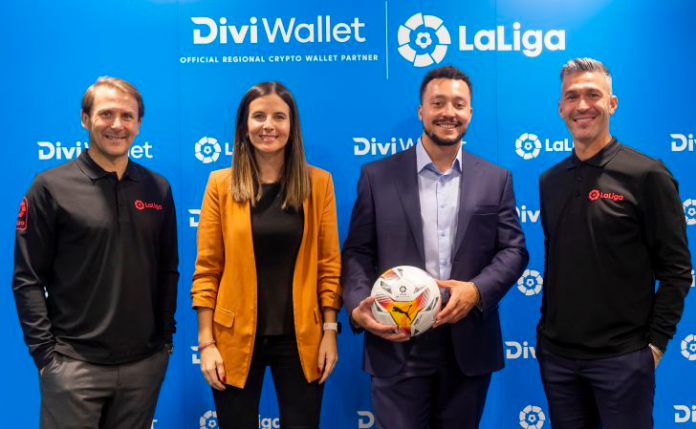 'Crypto-made-easy' wallet Divi has signed a multi-year agreement with La Liga to become its crypto partner for the MENA, Southeast Asia and China Regions.
The partnership will see La Liga, Spain's top-tier of professional football, promote Divi's new smart mobile wallet to an estimated global football audience of over one billion viewers.
This Autumn, Divi announced the launch of its new wallet, built on fully decentralised rails to solve systemic usability issues of cryptocurrency adoption by frustrated mainstream users.
Unique wallet features include a 'readable address' for users to send/receive cryptocurrency. The wallet is further supported by 'one-click masternode', which enables users to deploy a node and earn DIVI rewards as they exchange cryptocurrencies.
Furthermore, Divi supports 'staking vaults' that ensure anyone who owns cryptocurrency can earn no matter how much they hold or the technology/bandwidth at their disposal.
La Liga praised Divi innovations for breaking entry barriers in crypto adoption, as its wallet is focused on accessibility and ease-of-use, social inclusion and education.
"Crypto is being embraced by football fans and we want to bring in partners who demonstrate our understanding of what's important to them and align with our values. In that regard, Divi Labs was an obvious choice," said Oscar Mayo, Executive Director at La Liga. 
¨Much like La Liga they are a challenger brand that is innovating its sector.
The regions covered by the deal are considered by many experts to be emerging as the next crypto capitals. Data provided by La Liga revealed that one in 10 fans in the MENA region are crypto investors and six out of 10 crypto investors in the area are La Liga followers.
Targeting La Liga's global audience, Divi maintains its founding ethos that "earning and owning cryptocurrencies should be as easy as pressing play on Spotify".
"Our partnership with LaLiga gives us a powerful platform from which to reach and engage new audiences around the world and deliver on our mission to enable people from all walks of life to engage in the crypto economy and achieve financial freedom and inclusion," said Nick Saponaro, CEO, Divi Labs.
"Critically, it also offers a launchpad from which to get our products into the hands of people who need them most. The partnership will enable us to accelerate the creation of real-world initiatives that help some of the most in-need communities on the planet."