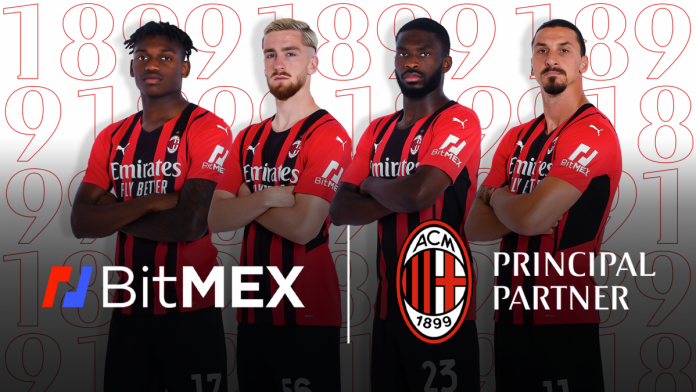 AC Milan has confirmed a new partnership with BitMEX, as the firm becomes the club's first-ever Official Sleeve Partner and the Official Cryptocurrency Trading Partner.
The BitMEX brand will feature on the sleeve of both the men's and women's team playing kit in all competitions, including the UEFA Champions League, and on the sleeve of the Rossoneri's eSports team, AQM – marking another first for the Club.
Alexander Höptner, CEO of BitMEX, commented on the link: "Our partnership with AC Milan is the start of a hugely exciting new chapter for BitMEX as we look to ramp up brand awareness and increase understanding of crypto. 
"AC Milan is one of the world's most progressive football clubs, and combined with its rich footballing heritage boasts extraordinary reach and engagement with fans globally. We felt we'd come home when we started talking to the Club, and we can't wait to start interacting with the global Rossoneri family."

Following the formation of the link, the two organisations outlined their focus on innovation, progress and inclusion. Additionally, the collaboration will offer the international Rossoneri fanbase access to the growing cryptocurrency world.
This will include planned exclusive offers for eligible registered AC Milan fans – through a trusted industry name, whilst also allowing BitMEX to promote digital financial literacy.
Casper Stylsvig, Chief Revenue Officer of AC Milan, concluded: "We are delighted to welcome BitMEX to the Rossoneri family as a Principal Partner and our first-ever sleeve sponsor of both the men's and women's teams as well as of our eSports team AQM. 
"Our red and black shirt is not just something our players wear on the pitch, it represents who we are, and it embodies the passion of the over 500 million AC Milan fans across the world. This is truly an exciting partnership and the beginning of a great journey for both brands and our fans."