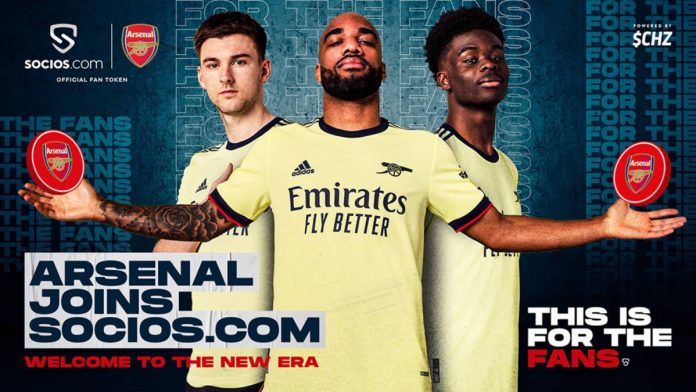 Arsenal has united with Chiliz, the specialist global blockchain providers for the sports and entertainment industry, to bring an $AFC Fan Token on the Socios.com app. 
Following the collaboration, Socios.com will become a digital meeting place for Arsenal's worldwide fanbase, with the partnership reflecting the club's drive to create a more engaging fan experience for their global following.
Alexandre Dreyfus, CEO of Chiliz and Socios.com, commented: "Every football fan is part of a community. In fact, one of the best things about being a football fan is feeling like you're part of something bigger.
"Knowing that when you celebrate a goal, thousands, and, in Arsenal's case, millions of Gooners, all around the world, are jumping around celebrating – doing exactly the same thing you're doing.
"There's a global community of Arsenal fans united by their shared passion for their club.
"Socios.com will become the meeting place for these fans and $AFC Fan Tokens the tools through which they are able to add a new layer to their relationship with the club.
"$AFC Fan Tokens will enable fans to access once-in-a-lifetime experiences and rewards, enjoy exclusive content, games, competitions, chat and to connect with a global community of supporters.
"I'm incredibly proud to welcome Arsenal and the legions of Gooners all around the world to Socios.com."
The newly launched Fan Tokens will seek to create new experiences for Arsenal's global fanbase, enabling them to become part of a digital community on Socios.com.
Peter Silverstone, Commercial Director at Arsenal added: "We are excited to launch this partnership with Socios.com that will bring our huge global fan base even closer to the club. Socios.com are leading the way in blockchain in the sports industry, as we have seen from their relationships with other leading European clubs. When we launch the $AFC Fan Tokens together we will give our hundreds of millions of fans worldwide more opportunities to interact with the club and be a part of our global family.
"We are committed to finding new and innovative ways for all our supporters – whether local or international – to get closer to the club. In addition to fan focused initiatives such as our groundbreaking My Arsenal Rewards loyalty programme, and the Amazon All or Nothing documentary, the launch of the $AFC Fan Token is another example of our renewed efforts in this space. We're excited to work with Socios.com to develop some amazing interactive opportunities for our fans to participate and interact with the Club they love."