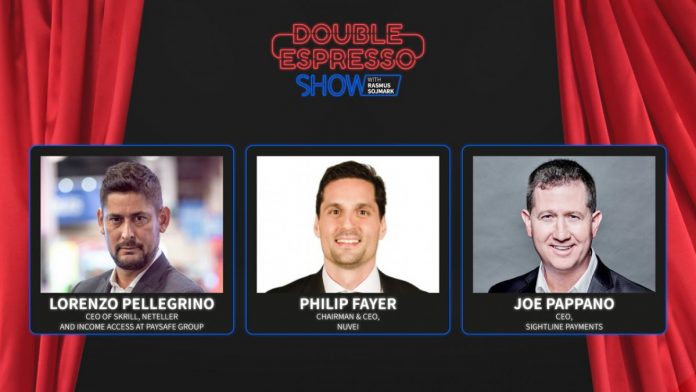 The past two years have been significant for fintech development, particularly with regards to cashless systems – as an increasing number of consumers have transitioned away from cash and towards contactless methods of payment.
Speaking to Rasmus Sojmark, CEO of SBC, in the latest edition of the Double Espresso Show, three experts in the payments space discussed the adoption of cashless transaction methods by the betting and gaming industry, in addition to other topics such as cryptocurrency and their respective corporate strategies.
Lorezno Pellegrino, CEO of Skrill, Neteller and Income Access at Paysafe, outlined his belief that although cashless solutions are increasing in popularity and will continue to do so, there are still hurdles in the way.
He began: "I believe it's going to take many many years, because in some markets cash is still the king, especially in emerging markets, and also in markets like the US with many immigrants who don't have a bank account. So it's extremely difficult to move from cash to a digital solution.
"55% of North Americans would be extremely disappointed if they didn't have access to cash on a daily basis, but it's also true on the other hand 33% of these consumers are using digital consumers as well. We are seeing some sort of shift from cash to cashless."
Meanwhile, Joe Pappano, CEO of Sightline Payments, highlighted the importance of understanding consumer attitudes towards cashless payments to promote such platforms to general users.
"You have to be incentivised or rewarded to be able to utilise those funds," he said. "Why would I make this account top of choice from a consumer perspective?
"There has to be a trust, a confidence and an expectation where I know when I utilise this financial offering this is the experience I'm going to recieve, the benefit that comes down to trust and confidence, in knowing my money is safe and secure, and you have to be able to do it from a mobile device."
Offering a similar opinion to Pellegrino was Peter Fayer, Chairman and CEO of Nuvei, who pointed out that some international betting and gaming operators are interested in adopting digital payment systems as their primary solution when entering the US market.
"We started 14 years ago enabling the gaming market and we've grown to be a really important player around the world, and naturally many of our customers are either thinking about or are entering the US on a digital first basis," the CEO stated.
He added: "The online experience is very different from the offline experience, but ultimately we end providing the facility for those customers to seamlessly transact, consume and have the flexibility from a cash environment which is really going to be cashless as time goes on."
Pappano also expressed his opinion that the gaming industry should remain focused on the development and implementation of cashless technologies, as opposed to making increased use of cryptocurrency.
"I think what we need to do is make sure we are all aligned in sharing best practices and truly landing in the rollout of cashless in that true omnichannel experience which correlates to both the digital side and what gets cascaded back down to the integrated casino resort. We are hyper focused on what that digital consumer digital experience is going to look like within that digital ecosystem."
However, although all three executives maintained that cashless systems will one day become the premient form of payment method for many consumers, it was still made clear that physical cash remains dominant, despite the leaps forward made over the past year.
Pellegrino asserted: "Cash is still going to be the king for a long time, but slowly but surely I see solutions like PayPal, Skrill, Neteller and AliPay getting more traction in every single market."
You can watch the full episode which explores the future of payments in North America here.
The Double Espresso Show, made in collaboration with GamblingTV, focuses on expert advice and key information from leading industry experts in an interview with our CEO Rasmus Sojmark. Over the coming weeks and months, more great interviews will follow this one.