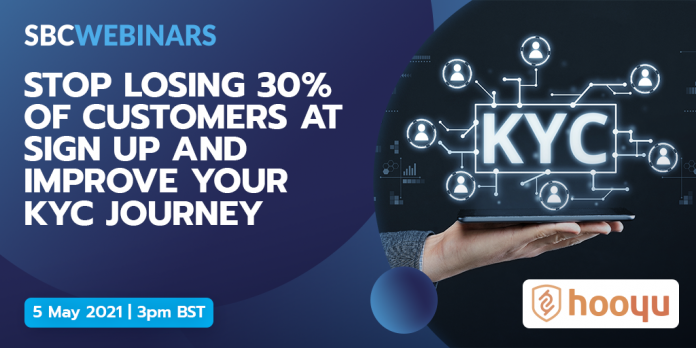 HooYu, the customer onboarding, KYC and fraud prevention specialist, will host an SBC Webinar on Wednesday 5 May (3pm BST) detailing ways in which betting and gaming operators can reduce player abandonment during the registration process.
The Stop Losing 30% of Customers at Sign-Up and Improve Your KYC Journey session will build on the recent Customer Onboarding Drop-off in Online Gambling study from HooYu.
That report revealed how prevalent the problem of customers bailing out during the registration process is across the industry and identified many of the pain points that cause players to decide against completing sign-up with an operator.
In this webinar, the HooYu team will reveal why customers become disengaged during registration, where in the sign-up process operators experience the highest level of dropout, and the most common mistakes that operators make in their onboarding journeys.
It will also focus on solutions to the greatest issues, as the experts will share tips on how to reduce leakage in the onboarding funnel and ideas for how to effectively utilise the latest digital KYC tools to minimise customer abandonment levels.
The panel features:
David Pope – Marketing Director, Hooyu
Martyn White – Head of Gaming, HooYu
Andrew McCarron – Managing Director, SBC
Register for Stop Losing 30% of Customers at Sign-Up and Improve Your KYC Journey: Wednesday 5 May (3pm BST).
David Pope, Marketing Director of HooYu, said: "Operators spend big money on advertising, promotions and affiliate marketing to drive traffic to their websites and apps, but the average 30% dropout rate during onboarding means a significant portion of that budget is wasted.
"In this webinar we'll demonstrate that operators can avoid losing out on new customers by re-evaluating their KYC journey and implementing new technology to make it simpler and quicker."
Join this SBC Webinar to gain some invaluable insights into how to make the onboarding process more user friendly and reduce customer abandonment rates.