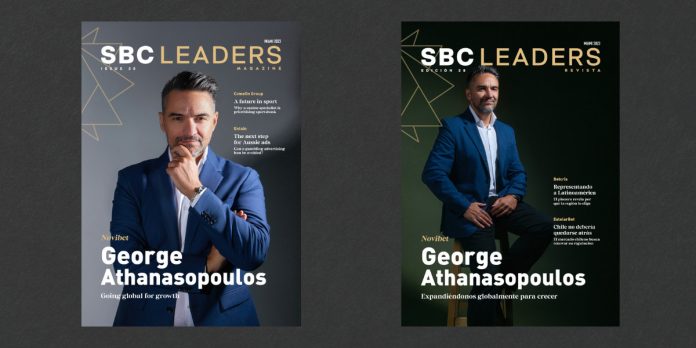 Strategies for growth is very much the theme of the new edition of SBC Leaders Magazine, as cover star George Athanasopoulos, CEO of Novibet, explains his approach to expansion.
In addition to detailing the company's launch in Latin America and strong performance in Greece, he reveals the reason its plans to go public via a SPAC deal were cancelled and why his current focus is on organic growth.
"We in Novibet have considered being the buyer in the M&A space," said Athanasopoulos. "But so far what is on offer is underwhelming, with the market presenting only very limited opportunities that could justify a buy-versus-build dilemma, especially for a company with organic growth rates such as our own."
Also featured in Issue 28 of SBC Leaders is ComeOn Group CEO Juergen Reutter, who outlined the casino-first operator's ambition to become a major player in the sports betting world.
The company has put significant resources into the plan, including the acquisition of specialist technology business Arland, and Reutter is aiming high.
"Our strategy is to become a tier one operator in the sports market," Reutter said. "For us, it's a key goal because we are very dominant in the casino market, where we have significant market shares in our territories. But when it comes to sportsbook, we are underrepresented.
"We are running at around 15% of our revenues from sportsbook, but we believe our fair share, the fair share of the sports-led operator, lies at 30-35% and above. So we are here to double our sportsbook business in the next three years."
Elsewhere in the English half of the magazine, Dean Shannon, CEO of Entain Australia and New Zealand, and Kai Cantwell, CEO of Responsible Wagering Australia, discuss the possibility of advertising restrictions Down Under, while Wazdan CCO Andrzej Hyla outlines the studio's Latin American ambitions, and Rob Fletcher, Founder & Executive Creative Director of Isobel, showcases the latest PlayOjo ad campaign.
For the first time, half of the new issue of SBC Leaders is in Spanish to cater for the audience at SBC Summit Latinoamérica.
The Spanish section includes interviews with a host of high-profile figures in the fast-growing Latin American betting and gaming industry, including Betcris CEO JD Duarte, Galera.bet CEO Marcos Sabiá, and Sebastián Salazar, CEO of EstelarBet.
Readers can also look forward to in-depth coverage of the markets in Brazil and Chile, as well as a look at the potential for affiliates in the region with Laura Gago, Head of Operations for BETANDEAL.