The growing importance of a seamless payment experience – which has largely been fueled by 'super apps' has elevated the role of embedded payments in recent years.
The magic behind embedded payments was a hot topic at this year's WeMeeting23 event in Marrakech, Morocco, as four notable figures in the space discussed the vital importance of embedded payments over the last several years and what infrastructures are needed to make the space even more optimal.
As the embedded finance space is expected to top an estimated $140bn in total revenue by 2025 – according to Lightyear Capital – the payments aspect of this seamless integration of banking systems and transaction destinations has burst into life, accelerated further during the COVID-19 pandemic.
Merchant Payments Director at GOJEK – Pratyush Prasana – highlighted the adoption of embedded payments by non-traditional finance entities as a driving force behind a new term embedded payments has seemingly birthed, the 'super app'.
Apple, WeChat, and even Twitter have all embraced the importance of seamless payments within their own operations. Prasana stated that whilst super apps may appear to be the next evolution of what embedded payments can be, he also highlighted that they can be bolstered further with more sophisticated APIs.
He mentioned this in parallel with GOJEK's own business app – GOBIZ – which strives to be an all-in-one business management platform to help firms monitor daily transactions and receive sales reports amongst other various solutions.
However, most embedded payments live almost exclusively online, needing the digital parameters such as a mobile phone with a working internet connection to enact such payments.
Lionel Baraban – CEO of Famoco – believes the bridging of digital and physical worlds can be achieved by bringing embedded payments to the retail shop counter, taxis and more.
He explained: "The more interesting question is how you bring an embedded payment to a shop, a cab, in a market, the real physical world essentially.
"It's really about point of interaction and a digital touchpoint, needing a security device alongside SoftPoS – reshaping the world – on the same mobile device by starting with identity, identification and payment is two-side of the same coin, and also a plethora of additional services, BNPL, ticketing, access control, etc."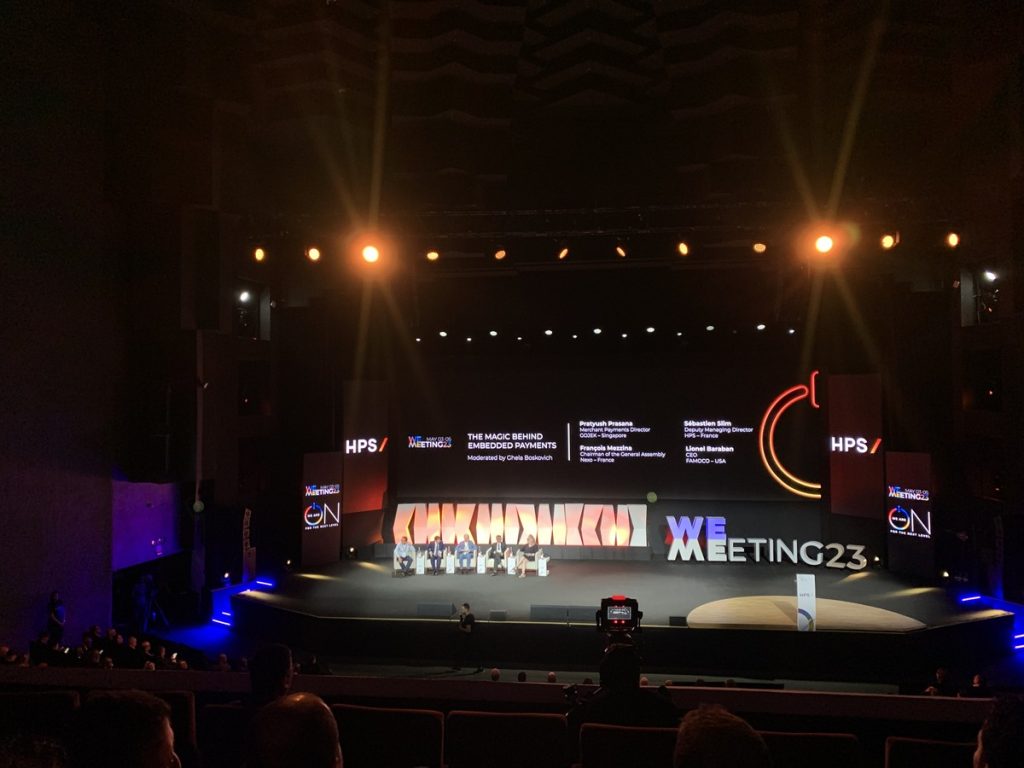 Whilst the 'missing link' between the physical and digital worlds continues to be a puzzle being put together by some of the industry leaders, maintaining a user experience remains a priority not for merchants but more importantly, the customer themselves.
"It's all about the checkout process being invisible to the client", remarked Sebastien Slim – Deputy Managing Director of HPS – who stressed the importance of a frictionless checkout experience without too many security constraints that may hinder that process.
He continued: "With not the proper user experience, it can impact the overall success of the app, business etc.
"What COVID has brought us is the mobile payment more and more and more, but we are still getting used to paying differently with new opportunities for merchants in embedded payments, by going to a provider to authenticate the consumer. It is now on the consumer to place that payment."
But as the user experience becomes more sophisticated, security parameters are critical in assuring that not only are customers experiencing a seamless journey, their data is being secured to the highest degree possible.
Chairman of the General Assembly of Nexo – François Mezzina – touched upon varying security standards, in particular where the users data goes if a transaction fails or is not verified, in which he admitted is something the industry is still aiming to clarify.
Mezzina revealed a workforce on commerce payments has been established to provide certain rail standards and addressed the challenge merchants face with the 'rainbow of payments' that have circulated over the last several years, with the more alternative payment methods comes with more security measures to secure the end user.
If embedded payments have not already infiltrated the industry and social zeitgeists over the last several years, they will almost certainly lay down their mark over the next several years.
As super apps continue to evolve and the user experience aims to become faster than ever, embedded payments will look to become the most prevalent payment method for the benefit of everyone.