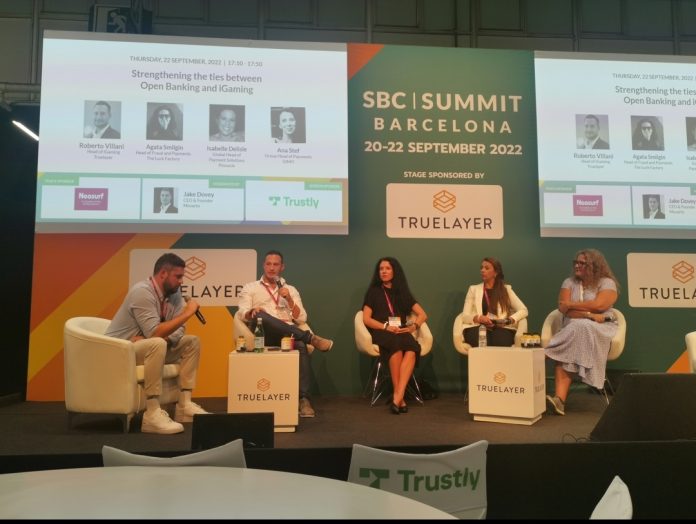 With its rise in popularity, open banking has enhanced the user experience for a myriad of sectors. The gaming industry is no exception, with the potential of a symbiotic relationship between open banking and igaming being the main talking point in one of the many discussions at SBC Summit Barcelona.
Headed by Jake Dovey, CEO & Founder of Rubiks Tech, the panel went ahead into the details of what open banking brings to the table for the end user and whether there any hurdles that need to be addressed when it comes to the technology. 
Commenting on how Europe has managed to lay out a "well-established" open banking infrastructure, Group Head of Payments at GIMO Ana Stef said that it has brought a "huge change" for her company.
"We were able to do faster KYC and have real data. Through open banking, we get the bank account details at registration, and this makes everything frictionless," she pointed out.
Adding on to the argument of how user interactions are sped up, Roberto Villani, Head of iGaming at TrueLayer, mentioned that players are usually being sent away when confronted with the time it takes to provide all documents necessary for affordability checks.
This is where open banking comes into play, according to Villani, as the ultimate goal is to "simplify the experience for the end user", while simultaneously "making the lives of merchants easier" by providing information through an API.
In a back and forth with Villani, Stef concluded: "It's already proven that open banking improves the UX for the onboard side and gets more detail for the player. Players nowadays listen and they will be more than willing to avoid the waiting times and continue the experience."
But although open banking adoption rates are on an overall upwards trajectory, it's important to note that this varies from country to country, even after the implementation of Europe's PSD2 regulation.
The panel seemed to agree that some of the challenges that may arise from this inconsistency should be resolved by the banks.
Dovey commented: "Even though PSD2 came in, there have been some challenges. Some of them have been directly with the banks. There are European markets who haven't necessarily produced a reliable product.
"It's important to understand that it's the job of the provider to build infrastructure, reconciliation, notification, and package it all together".
Agata Smilgin, The Luck Factory's Head of Fraud and Payments, added: "The problem is that we cannot do much about the challenges as long as the banks don't take seriously the amount of data that they agree to share."
Although Stef also chipped in by sharing her own observations of areas that need more refining, she remained optimistic about open banking's future: "It's a new term and it's developing really fast because of the high demand.
"We are currently facing some incomplete data – it depends on the bank, on the API and so on. Of course there are still a few things to fix but definitely it's a beneficial option for all of us."
Following up on that, Smilgin gave a brief overview of where the technology currently stands in terms of global markets, and expressed her hopes that a solution to cover them all is on the horizon, which would fix open banking firmly into the ground.