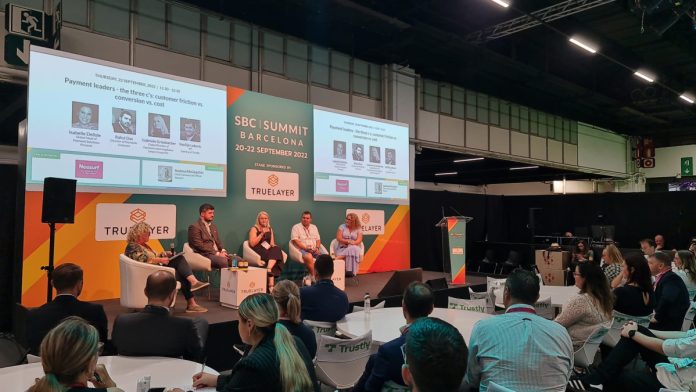 The balance between customer friction and costs remains a key challenge for the industry, specifically as it embarks on rapid evolution.
Moderating the opening panel on day two of the Payment Leaders track at the SBC Summit Barcelona – Andrea McGeachin, Chief Commercial Officer at Neosurf – emphasised that 'the one true constant within payments is change'.
Those changes, McGeachin underlined, present challenges for payment firms, especially as regulatory frameworks evolve.
Isabelle Delisle, Global Head of Payment Solutions at Pinnacle, explained that, when innovations aren't suitable to be embraced by a wide portfolio of markets, their prevalence for firms and operators dwindle.
Whilst regulatory frameworks can pose challenges to payments firms, Gabriele Griesbacher, Global Director of Payments and Compliance at Entain Group, was clear that regulation is a positive thing and the protection of the player is crucial. She added that the industry could benefit from a more holistic approach, which would strengthen safeguards for players across the board.
Rahul Das, Director of Payments at Livescore, stated the importance of trust between the parties involved, as he sought to outline where the responsibility lies when it comes to identifying the source of funds and whether it should be a priority for PSPs.
Lack of synchronisation is also something that Das detailed was hindering the industry, with data available in one market not being accessible in another and significantly limiting the role of payments firms.
Vasilije Lekovic, VP of Gaming at Trustly pinpointed the growth of Open Banking tech as a potential route to bolstering the payments industry in enabling checks and supporting safer gambling.
McGeachin named the regulators in Ontario and the KSA in the Netherlands as being positive examples of bodies that have been collaborative and listened to the firms that embrace their framework, something she is optimistic other regulatory bodies within gambling and payments take heed of.
Lekovic also echoed McGeachin's sentiment of optimism as he praised the smart minds of the industry and the embracing of tech in payments – with regulatory challenges leading to new innovations that can transform the payment journey.
The growth of technology is also something that Griesbacher believes will be crucial in the payment journey and overcoming regulatory hurdles, whilst ensuring the relationship between players and operators continues to thrive.
With a regulatory overhaul likely looming in the UK as well, Das added that flexibility is vital and enables the ability to interject at a point during the customer journey as being pivotal to adapting to various regulatory frameworks.