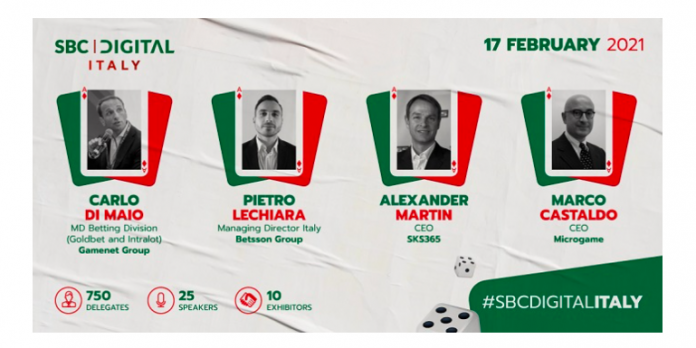 The SBC Digital Italy conference and exhibition is set to feature some of the most influential figures from the Italian betting and gaming industry, including senior executives and specialists from Gamenet Group, SKS365, Betsson Group, SNAITECH and E-Play24.
The online event on 17 February 2021 has an agenda that covers the tough trading and regulatory environment for Italian operators, the opportunities presented by the growing popularity of online, the likely next developments in regulation, and effective marketing strategies within the current restrictions.
In order to shed some light on those key issues for Italian operators and affiliates, and suppliers working in the market, a roster of 25 expert speakers will share their experiences and ideas with the audience of more than 750 delegates.
The speakers include senior executives such as Fabio Schiavolin (CEO, SNAITECH), Carlo Di Maio (MD Betting Division, Gamenet Group), Alexander Martin (CEO, SKS365), Pietro Lechiara (Managing Director Italy, Betsson Group), Marco Castaldo (CEO, Microgame & Director for Betting & Online Gaming, ASTRO), and Ludovico Calvi (Board Director, Lottomatica Betting Ltd & President, GLMS).
Reflecting the growing importance of online to the Italian gambling industry following the segment's 45% growth in 2020, the line-up includes a host of operator representatives ideally placed to deliver insights on the nature of the opportunities in igaming and online betting.
Alessandro Graziosi (Digital Director, SNAITECH), Alessandro Allara (Chief Digital Officer, Gamenet Group), Daniela Lanzolla (Director of Gaming, SKS365), Alessandro Grasso (COO, E-Play24), Natalie Berenato (Head of Online Marketing, Olybet Italia), Cristiano Azzolini Di Maggio (Head of Casino, Signorbet.it), and Francesco Paolo Condoleo (Senior Product Specialist Casino, Sisal) are among those set to share their ideas for the future of the online market.
As the arrival of a new government has opened up the possibility of further changes to Italy's stringent regulatory regime, creating uncertainty for both Italian and international operators, a number of gaming industry legal experts will join panels examining the issue of regulation. They include Dr Ekaterina Hartmann (Director of Legal and Regulatory Affairs, European Gaming and Betting Association), Tal Itzhak Ron (Chairman and CEO, Tal Ron, Drihem & Co.), and Quirino Mancini (Partner, Tonucci & Partners).
The SBC Digital Italy speaker line-up is further augmented by a selection of product and service specialists including Shaun Simmonds (Managing Director, Superstar Digital), Filippos Antonopoulos (CEO, OKTO), Christian Tirabassi (Senior Partner, FICOM Leisure), Giuseppe Donato (Country Manager Italy, Kiron Interactive), and Paolo Cisaria (General Manager & CRO, Mkers Srl).
Completing the roster is a strong contingent from Italy's leading betting and gaming industry media, including Alessio Crisantemi (Direttore Responsabile, GiocoNews.it), Nicola Tani (Editor, Agipro), and Domenico Dragone (CEO, The Betting Coach).
Rasmus Sojmark, Founder & CEO of SBC, said: "We're delighted to have put together such a high-quality speaker line-up for our first event fully dedicated to the Italian betting and gaming industry. Between them they offer a real depth of expertise across all the key topics for the market.
"SBC Digital Italy delegates can look forward to learning a wealth of useful information on subjects such as regulation and marketing, as well as picking up some great ideas about the high-growth igaming and online sports betting markets."
Attendees can also see the latest innovations from some of the world's leading suppliers in the event's interactive product display area, and connect with fellow attendees to talk business during the programme of networking roundtables.
For further information about the event and to register for free, please visit the official SBC Digital Italy website.