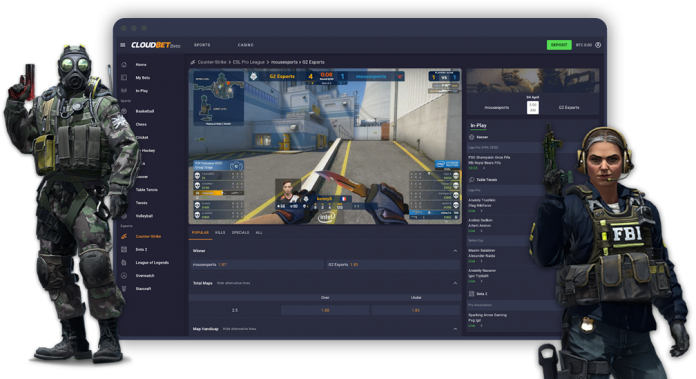 Further serving the demand for cryptocurrency wagering, bitcoin sportsbook and casino Cloudbet has launched an esports vertical, allowing players to place in-play bets with digital currency on games such as CS:GO and FIFA 20.

The amount wagered on esports had been forecast by consultants Eilers and Krejcik Gaming to rise to almost $13 billion this year, more than double the total in 2016. While this forecast was made long before the ongoing pandemic, the resulting sport lockdowns and stay-at-home restrictions have supported a rise in esports betting.

"Our figures indicate clearly that there is strong demand and we will continue to invest in making our platform the best place to bet on esports with crypto," a Cloudbet spokesman said. "Our aim as a responsive and innovative operator is to recognise what our customers want and deliver it to them."

The implementation of Cloudbet comes as the prevalence of digital currency grows exponentially, at last week's SBC Digital Summit, Rebecca Liggero, lead reporter of Ayre Media, posed the question of what operators can do in terms of communication when it comes to crypto, and how they can maximise its use as a method of currency for its players.

Speaking on the Blockchain payments as a driver in crisis panel Max Krupyshev, CEO of CryptoProcessing.com by CoinsPaid, and revealed that he witnesses a lot of mistakes when new operators begin to integrate crypto payment methods.

He explained: "You try to keep the disruption low, which is against what Lloyd is saying. Creating blockchains in casinos is an amazing idea, it is disrupting the whole industry but the element of dedication is huge but you need to get the first step right.

"You have a big brand, you have a user base so just help them to use this as an option and then see if you want to get more users.

"Education, in general, is very important. I want this panel to explain to our listeners what to get right if they want to enable cryptocurrency.

"I see a lot of mistakes when the operators start working with cryptocurrency, they misunderstand the flows. The key point which created a bad impression from the start was accepting cryptocurrency. You have to make sure your players don't wait, they have to make sure that when the money is sent the player gets the money within seconds.

"Then you have to make sure that the exchange rate is fair, when a player deposits €100 into his account he needs to receive said €100. It should then fit into the existing flow, you don't have to change your cashier completely for the crypto. Finally follow the big players who have been using crypto for years, these are the people who have got it right.

Tom Bloor, sales manager at Cryptopay, echoed Krupyshev's point and was keen to highlight the importance of keeping it simple. He said: "The more you know about your customers and what they like, the better. This is the main job of an operator, if you don't know your customer well you can't retain them and then you can't grow.

"If you know what your customer behaviour is and you know if they prefer convenience or transparency this should inform how you plugin and accept how you are going to work with cryptocurrency.