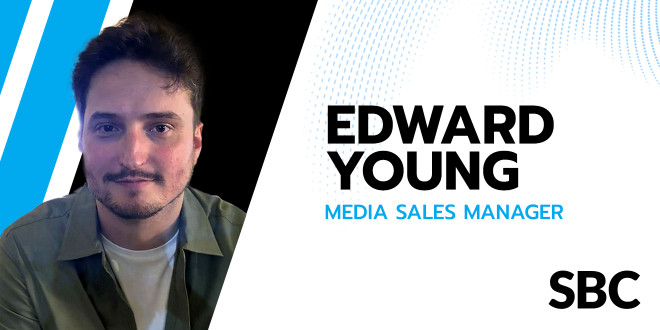 Events and Media specialist SBC has once again strengthened its sales team with the appointment of Edward Young as Media Sales Manager.
An experienced media industry expert, Young joins the SBC Media team during a period of strong growth and his recruitment represents a proactive approach to building on what is already the betting and gaming industry's largest and most read media portfolio.
The SBC Media offering currently includes 12 B2B news portals, a range of daily and weekly newsletters that reach thousands of subscribers, a growing selection of magazines, a multifaceted webinar business, and a flourishing podcast wing that boasts, among others, the popular iGaming Daily, the SBC Leaders Podcast, and Martin Lycka's Safe Bet Show.
Young's experience spans over 16 years in media sales, with recent posts including a spell at Informa Connect as Sponsorship Manager and seven years as Business Development Manager for Infopro Digital. He will bring a wealth of expertise in new business generation, client relationship building, and innovative media sales solutions to the growing team at SBC.
Young said: "I'm hugely excited to join SBC Media and bring my skills and experience to the betting and gaming industry. I'm keen to meet and speak to as many existing and potential clients as possible, and help them achieve their goals with the exciting product range under the SBC Media umbrella."
He will report directly to SBC Media's Commercial Director John Cook, appointed in January 2023, and will look to build on Cook's success of taking SBC Media into new areas of potential growth, providing a dedicated point of contact for SBC's media clients.
Cook commented: "I couldn't be happier to welcome Ed to the team. We've known each other for many years and I can say with certainty that he's a tremendous salesperson, who has a deep understanding of the B2B media landscape, and is the perfect fit to further capitalise on the outstanding growth potential of SBC Media's impressive product portfolio."
He added: "Ed is not only a skilled negotiator and tireless in his new business development, but also an extremely attentive key-account manager who will provide great service for every client in his portfolio."
SBC's Managing Director Andrew McCarron remarked: "We're delighted to welcome Ed to the SBC Media team. He's undoubtedly a fantastic sales manager, a legitimate media specialist, and his credentials and enthusiasm for the job shone through from the moment we met.
"This is a real coup for our commercial team and the ideal hire to further our ambitious growth plans on the media side of the organisation."
If you were in attendance at the flagship SBC Summit Barcelona last week you may have already met Young, along with Cook, McCarron and the rest of the SBC Media team.
If you didn't manage to make your way to the Media Stand at last week's summit, or would simply like to schedule a further appointment with Young and the team, you can get in contact by emailing him at [email protected]