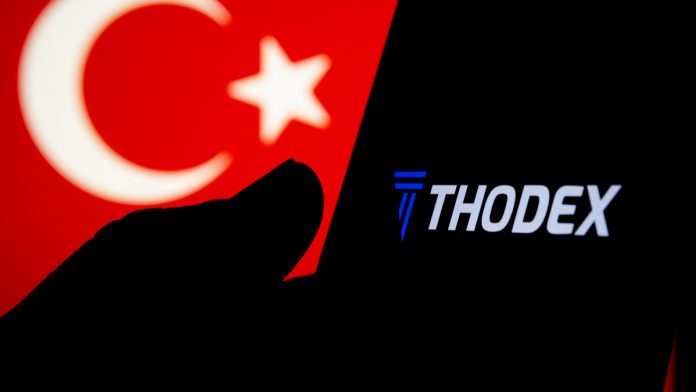 Turkish prosecution is seeking to indict over 40,000 years in prison for 21 individuals related to Thodex who have been accused of crypto scams.
Defunct cryptocurrency exchange Thodex closed 'for several days' in April last year, never to reopen again. Not long after, speculations began to circulate about the CEO and Turkish national Faruk Fatih Ozer running away with $2bn in user funds.
Ozer himself was last seen that April, reported to have flown into Albania from Istanbul to supposedly meet clients. Having disappeared since that day while being pursued by Turkish authorities, Interpol has issued a Red Notice for his capture.
The reason reads "establishing organisations for the purpose of committing crimes", with his alleged fraud estimated by the newest indictment to have reached the range of $24m instead of the previously rumoured billions.
Nevertheless, if captured, Ozer and the other 20 individuals designated as accomplices face up to 40,000 years behind bars.
Cryptocurrency trading grows increasingly lucrative for bad actors due to the vastly unregulated nature of the sector.
Mark Crichton, Head of Product at anti-fraud solution provider Outseer, commented: "As a largely unregulated industry, crypto trading fraud is rife, so it's good to see prosecutors baring their teeth when it comes to chasing down clear examples of fraudulent behaviour.
"Despite the denial of any wrongdoing from Thodex executives, the fact that the CEO has been on the run for so long doesn't exactly scream innocence, and as yet, there's been no evidence of paying back the scammed investors.
"Of course, investing in crypto has inherent risks, but this is yet another example of would-be investors being taken advantage of. People are pouring hard-earned money into crypto, and we're seeing an investment boom year on year. Because of the lack of regulation around cryptocurrency, cybercriminals have seen an opportunity and are really targeting it as a revenue source.
"Unfortunately, the relative ease of laundering cryptocurrency means that victims of crypto fraud are unlikely to ever see their money returned. So, consumers looking to take the leap into crypto investment have to be wary of scams and ensure that the platforms and exchanges they're looking to trade on are legitimate and secure before any money changes hands – otherwise there's a chance they'll get their fingers burnt."