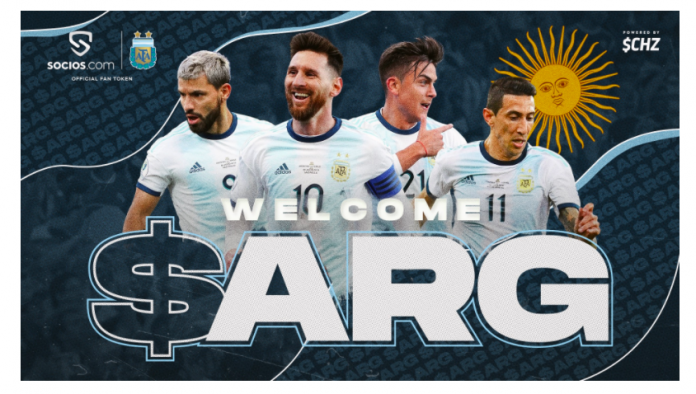 The Argentine Football Association (AFA) has become the first national football body to launch a 'Fan Token' on the Socios.com 'fan engagement platform'.
The token has been developed by Chiliz blockchain technology,  for the Argentina national football team, to provide deeper engagement with its team's global fanbase.
As a result of the partnership, the AFA has recognised Fan Tokens as a collectable digital asset, connected to Chiliz blockchain – which in-turn will provide its holders access to voting rights in polls, VIP rewards, exclusive promotions, AR-enabled features, chat forums, games and competitions via the mobile app Socios.com.
AFA President, Claudio Tapia backed the partnership with Socios.com as an innovative platform to digital commercialise and diversify Argentine football.  
"We are very happy to announce this important agreement with the multinational and innovative brand Socios.com." Tapia remarked.
"This agreement clearly responds to our strategy and also reinforces our digital growth. Through Fan Tokens, fans will feel closer to our national team and will be able to influence the team, earn rewards and enjoy exclusive experiences.
"We are very excited about this new announcement, which reinforces the confidence of large companies in AFA's commercial projects. We welcome you to Socios.com and look forward to working together to achieve great results. "
The Socios.com platform was launched in 2019 by blockchain developer Chilliz to deliver a digital marketplace for sports and entertainment organisations to engage seamlessly with global audiences.
To date, Socios.com has registered +30 sports partnership with organizations that includes FC Barcelona, Paris Saint-Germain, Juventus, AC Milan and Manchester City and the UFC.
Alexandre Dreyfus, CEO of Chiliz and Socios.com, said: "Two World Cups, 14 Copa América titles, geniuses like Messi and Maradona that have cast a spell on billions with their brilliance – Argentina are legends of world football.
"We're therefore incredibly proud that they will become the first national team in the world to launch a Fan Token on Socios.com. This is also a massive day for Argentina's famously passionate fans, who will now have an incredible new way to engage with and influence their beloved team.
"In a single groundbreaking day we've added new partners from three continents to our ever-growing roster.
"The future of sport rests on transitioning passive fans into active fans through transactional fan engagement; our fan engagement platform enables our partners to plug into a global network of elite sporting organizations and achieve this necessary evolution."