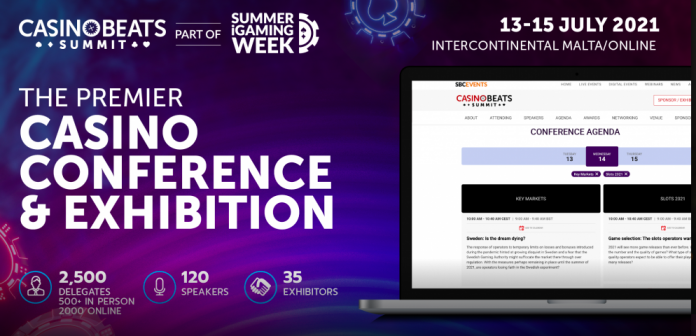 CasinoBeats Summit is set to mark the return of in-person events with a comprehensive conference agenda that will deliver detailed insights into the major issues influencing the future of the international igaming industry.
The event on 13-15 July 2021 will take place in an innovative integrated live and digital format, with an audience of 500 senior executives attending at the InterContinental in St Julian's, Malta and a further 2,000 online casino professionals joining a parallel virtual edition.
Delegates can look forward to the year's strongest speaker line-up for a dedicated igaming conference, with a 120-strong roster that includes Tim De Borle (CEO, Napoleon Sports & Casino), Alex Tomic (CEO, Alea), Ariel Reem (CEO, Genesis Global), Christopher Dalli (CEO, L&L Europe), Dersim Sylwan (CMO, LeoVegas), Matthew Vassallo (COO, Hero Gaming), Stefania Mincu (CPO, Ellmount Group), and Alessandro Allara (chief digital officer, Gamenet Group).
The schedule for the first day of the conference, July 14, includes two tracks on the live stage – Slots 2021 and Products & Innovation – while the digital stage will take an in-depth look at specific markets. Content from both stages will be available to both in-person and online attendees.
As part of CasinoBeats Summit's status as the must-attend event for everyone involved in product development and selection within the gaming industry, the Slots 2021 and Products & Innovation tracks will provide high-level insights on topics such as UX, building successful slots franchises, game re-skins, gamification, and the future of feature buy-ins.
There will also be a session about how to better understand the vast video gaming audience, the lessons slots providers can learn from player behaviour in that market, and how that information can be utilised to drive engagement.
The digital stage's Key Markets track will shine a light on the issues slowing progress in established regulated markets and offer expert insights on how to tackle problems being experienced by operators in Sweden, Italy, Spain and the UK. Attention will then turn to the biggest international opportunities, as the New Markets track has content exploring how to succeed in Germany, the Netherlands, the US, and Latin America.
On 15 July, the digital stage will host a full-day Leadership track that will see many of the igaming industry's most influential figures exchanging ideas about the biggest challenges faced by the sector.
A CEO panel will discuss how to embed a safer gambling ethos into operators' culture, while the CTO panel will examine cutting edge uses of game and player data, and a group of senior staff from games developers will share ideas about how online casino can transition to a 'zero-harm entertainment' model.
The agenda also includes a COO panel looking at how to retain and retrain staff in a skills shortage market, and a CMO panel that will focus on marketing slots within changing regulatory environments, together with a regulators' panel and a session about the growing influence of content aggregators.
On the live stage, the Marketing & Affiliation track will feature sessions that examine the increasingly important role of slots streamers as influencers, the future of SEO in igaming, how to develop customer loyalty schemes that work, effective data collection in the age of compliance, and the role affiliates can play in assisting operators entering new markets.
Rasmus Sojmark, founder and CEO of event organiser SBC, said: "The agenda for CasinoBeats Summit focuses on the product side of the igaming industry, which Malta is the world leader in, and how online casino and slots operators can adapt to the fast-changing technological and regulatory environment.
"With highly-relevant topics being discussed by a speaker line-up populated by renowned experts, everyone involved in game development, selection and promotion, and expansion in international markets can pick up valuable ideas and practical information during the event."
In addition to the conference, the in-person version of CasinoBeats Summit will feature an exhibition and the inaugural Game Developer Awards at the InterContinental. The awards will honour the best of the online casino industry in 14 categories that recognise excellence in performance, game creation and marketing.
Central to the live delegate experience is the perfect opportunity to reconnect with industry colleagues and meet new contacts during the all-inclusive networking programme. This includes evening parties at Infinity by Hugo's on 14 July and Casino Malta on 15 July, both with complimentary food and drinks.
The online version of CasinoBeats Summit is designed to allow industry professionals unable to travel to Malta in July to benefit from the same exchange of ideas and chance to connect with the cream of the European igaming industry. It will feature a selection of video-conferencing networking roundtables, and a digital version of the exhibition, complete with product presentations and games showcases.