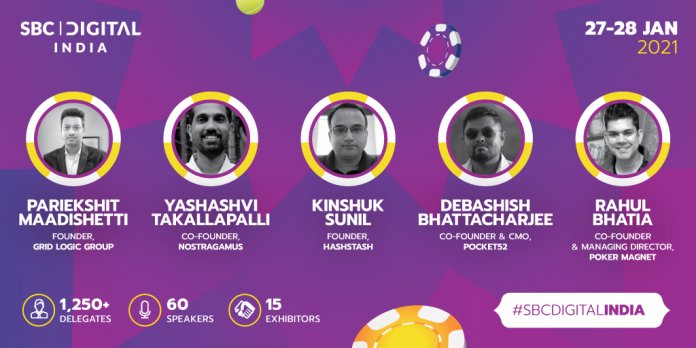 The speaker line-up for the SBC Digital India conference and exhibition is set to feature the founders of some of the market leaders in the country's fast-growing real-money gaming industry.
The conference agenda for the online event on 27-28 January 2021 will address many of the major issues influencing the future of India's online skill game, sports, esports, lottery, and land-based casino sectors.
Pariekshit Maadishetti, Founder of Grid Logic Group and SBC Digital India's title sponsor Taj Rummy, leads the cohort of experts ready to share their experiences of building successful skill games businesses and ideas for how the market can develop further.
Yashashvi Takallapalli (Co-Founder of fantasy sports, card games and casual games app NostraGamus), Kinshuk Sunil (Founder of games developer Hashstash), Debashish Bhattacharjee (Co-Founder and CMO of poker network Pocket52), and Rahul Bhatia (Co-Founder and Managing Director of poker operator Poker Magnet) are among the other executives set to offer their insights on the next steps for India's $400 million real-money skill games industry.
The line-up also features a strong contingent of entrepreneurs from the country's flourishing esports sector, including Sanupam Samantray (Co-Founder, Playtonia), Siddharth Nayyar (Co-Founder & Director, AFK Gaming), Dinesh Kruplani (Founder & CEO, Crustplay), and Yash Warghane (COO, FutureStation Esports).
Delegates with an interest in the cricket and horse racing-related parts of India's gaming industry can look forward to hearing from Seemant Shankar (Co-Founder & CTO, Sports Unity), Ratul Sethi (Founder, Apne11 and Co-Founder, Sportskhabri.com), sponsorship expert Russell Yershon (Founder, Connecting Brands), and Piyush Choudhary (Director of Business Development – South Asia, Sportradar), among many others.
Many of the supporting services vital to the industry's growth are also represented on the speaker roster, which includes marketing experts such as Parul Tarang Bhargava (Co-Founder & CEO, vCommission), Anutosh Chatterjee (CEO, Revenue Street), Satya Mahapatra (Founder, ROI Internet Marketing), and Vishesh Bhandari (CEO, Stock Market Fair).
Specialist gaming lawyers Gowree Gokhale (Partner, Nishith Desai Associates) and Vidushpat Singhania (Managing Partner, Krida Legal) will offer informed perspectives on key legal issues, while further market insights will be provided by Roland Landers (CEO, All India Gaming Federation) and Christian Tirabassi (Senior Partner of gaming industry advisor Ficom Leisure).
Rasmus Sojmark, Founder and CEO of event organiser SBC, said: "India is one of the world's most exciting emerging gaming markets and this event will provide delegates with a huge amount of useful information about the nature of the opportunities in it.
"It's fantastic to have the founders of many of the Indian industry's most successful and influential companies taking part in SBC Digital India, and our audience will be fascinated to learn about their experiences of and ideas for this unique market."
Delegates will have access to an interactive product display area where leading gaming industry suppliers will showcase their latest innovations for the local market, as well as to a selection of virtual networking roundtables that offer a straightforward way to connect with fellow attendees with shared business interests.
To view the full agenda and speaker list for SBC Digital India, and to register for free, please visit the event's official website.