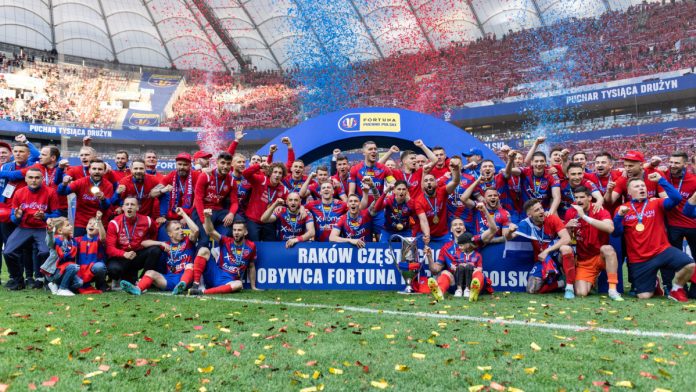 Digital assets platform Zondacrypto has signed a new two-year deal with Polish Ekstraklasa champions Raków Częstochowa.
Zondacrypto will use the deal to familiarise Raków fans with its services that are licensed in Poland, Estonia, Italy, Lithuania, Canada, and Slovakia.
The crypto firm offers more than 50 crypto assets, stablecoins, as well as traditional currencies like euros and British pounds to exchange on its platform.
As part of the deal, Zondacrypto's logo will be placed on Raków Częstochowa's front-of-shirts, and will receive additional visibility through the team's various communication channels. Fans will also be able to purchase matchday tickets with crypto.
Przemyslaw Kral, CEO of Zondacrypto, said: "It is an incredible joy for us to support Raków in their fight for more trophies. Raków's inspiring journey to the top of Polish football is in many ways very similar to what we've witnessed in the cryptocurrency market.
"When bitcoin's code was made public in 2009, first reactions were doubtful. Loyal followers, as in the case of Raków, have played a huge part in our journey to the top and there is still more to come, in both industries."
Established in 1921, Raków Częstochowa recently enjoyed an important campaign where it won the Polish Cup, the Polish Super Cup, and the Polish vice-championship, while also securing a spot in the Champions League qualifiers.
Piotr Obidzinski, Management Board President at Raków Częstochowa, added: "We are very happy that zondacrypto will support us in our amazing journey and fight for further successes. This is the first time we have partnered with a cryptocurrency company, emphasising our increasing presence in the business market.
"Zondacrypto is a company that has grown from local to global status and like Raków, has aspirations to keep growing. The partnership will not only benefit the club and sponsor, but supporters alike. I firmly believe that this is the beginning of a long-term joint adventure."