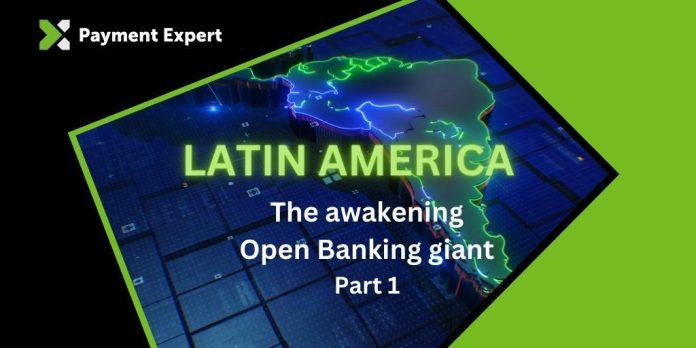 In a three part deep dive for Payment Expert, Patricia Carolina Ramirez Arriaza, PhD student at University of Mariano Gálvez in Guatemala, and Michel Reznik, Partner at Estudio Legal Bernal in Mexico, provide an overview on the state of Open Banking in Latin America.
They explore Open Banking through the prism of four countries: Colombia and Brazil – which are at advanced stages in terms of adoption and regulation, Mexico – which has advanced in terms of regulation but comparably less in adoption, and Guatemala – which plans but has not yet witnessed introduction of Open Banking nor introduced regulations in relation to it.
Latin America is a region with huge potential and will have significant impact on the growth and expansion of Open Banking globally, which will see local providers expand their services and offering as well as entry of global powerhouses and challenger-providers.
The article examines the nuances and experiences of four Latin American countries at different stages of their adoption of Open Banking and juxtaposes it against their European and UK counterparts, which will contextualise the Latin American experience for the European and UK providers.
Benefits of Open Banking
Open Banking, simply, is the exchange of information data between entities in the financial services (and other) sectors through public APIs.
The difference is illustrated through the below diagram: prior to introduction of Open Banking the exchange of information and data was bilateral: between a client and a provider and between one provider and another. The information and data typically was exchanged through private APIs and required bilateral agreements to support the exchange.
Introduction of Open Banking has allowed for multilateral and multifaceted exchange of information and data between entities through public APIs, bringing a number of benefits to clients as well as the financial services industry as a whole. Often quoted benefits include speed and cost of transactions, enhanced services, increased competition in the market and greater client access to services.
Open Banking is something that is exponentially growing, as Allied Market Research valued the Open Banking market at USD13.9 bn in 2020 and expected to reach 123.7 bn by 2031.
Country Focus 1: Colombia
Colombia is one of the early adopters of Open Banking in Latin America when it started to recognise the potential of public APIs and Big Data in 2016 that ultimately led to a paper (CONPES 3920) published in 2018, which highlighted socioeconomic benefits of exploiting Big Data.
From thereon, Colombia has enacted a range of legal and regulatory instruments that galvanise the operation of Open Banking. The main ones include:
Circular 029 of 2019 by the Colombian Regulator (Superintendencia Financiera de Colombia) that provides for minimum (security) requirements for financial operations, client information and biometric data.
Decree 1234 of 2020 which creates a controlled sandbox environment for innovative financial technology.
Decree 1297 of 2022 which focuses on the regulation payment initiation, commercialisation of information and technical standards
Currently there are two initiatives to gold plate the regulation of Open Banking in Colombia which include:
Technical Document on Open Banking published in 2021 which proposes enhanced regulation that will address the exchange of consumer data, digital platforms, payment initiation and consumer protection.
The Ministry of Finance in Colombia in 2020 issued a five-year plan for the development of the financial system and capital markets (Política pública para el desarrollo del sistema financiero y del mercado de capitals) which puts regulation, and regulation in relation to Open Banking, at the heart of the development of the financial system.
Open Banking in Colombia is demonstrated in the following diagram and can be taken as a model of how operations of Open Banking ought to be. The main participants of the financial ecosystem exchange data through public APIs: banks (of which there are 29), fintechs (of which there are 279), regulated and unregulated financial entities, the financial regulator and the Colombian government.
Country Focus 2: Brazil
Brazil is another Latin American country at an advanced stage of adoption of Open Banking. It was implemented in four phases:
Phase 1 – established the objectives of Open Banking in Brazil, which included the benefits of the exchange of data, the institutions that would partake in the exchange of data and the channels by which this information would be exchanged.
Phase 2 – focused on the users and the manner in which the data would be sourced from them and the process by which the sourced data would become data used in exchange between institutions.
Phase 3 – related to exchange of information pertaining to financial transactions and payment initiation.
Phase 4 – started in May 2022 and expanded Open Banking into verticals that made it Open Finance (as opposed to Open Banking) which has included insurance, investments and pensions and foreign exchange.
Brazil has a robust legislative and regulatory framework pertaining to Open Banking, especially if compared to other counterparts in Latin America. The Law 13.709 enacted on 14 August, 2018 regulates personal data processing, which contextualises Open Banking in Brazil. A notable characteristic of the law is that it gives exclusive ownership rights of information and data to the individual or entity to whom the information relates.
The Brazilian Central Bank played a leading role in the implementation of Open Banking and has produced technical standards and specifications pertaining to it. One of the most important instruments is the Open Banking API manual, the latest version of which was published on 22 July 2021.
Furthermore, larger institutions that are classified as S1 and S2 in Brazil, are required to abide by the Central Bank's Notice 33.455 that was enacted in April 2019. For all others, it is voluntary.
The advanced stages of the regulatory landscape in Brazil, which has brought stability and certainly has led to the arrival of large and renowned global providers. Mercado Pago was the first company to receive a payment transaction initiator licence in Brazil in 2022 and Volt.io, headquartered in England, offering real-time payment solutions, arrived in Brazil in the last months of 2021.